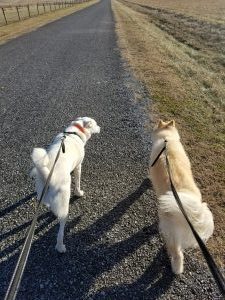 After a week of ice and snow (both wearying and exasperating in the winter-weather-adverse South) the temperature finally picked up and Saturday was in the 60's. The dogs and I took advantage and ventured out into the country.
We had a lovely time, but Bella is getting older, and she can't go as far as she used to. I dropped them back home, but I wasn't done yet.
I have been reading so many fascinating things, about spirituality and brains and the universe. I craved to go out into nature and try to feel that right-lobe magic. To give myself the gift of movement and outside and quiet thinking. But because I am also a creature of narrative and connection, I documented the journey, telling myself the story of my walk and planning to recount it here for you.
I started by venturing down a side road near my driveway that I'd never visited before. I used to think it was a private drive, having only ever seen large, bumbling farm equipment emerge from it. Imagine my excitement at finding a winding public path through the country. Since moving to this new house I've felt cooped up, unable to get out in my neighborhood and walk or run around like at the old house. There literally isn't a neighborhood out here. No sidewalks. I tried to get in the habit of walking the road with the dogs, but traffic and other roaming dogs made that hard to do.
But now I've found my roads.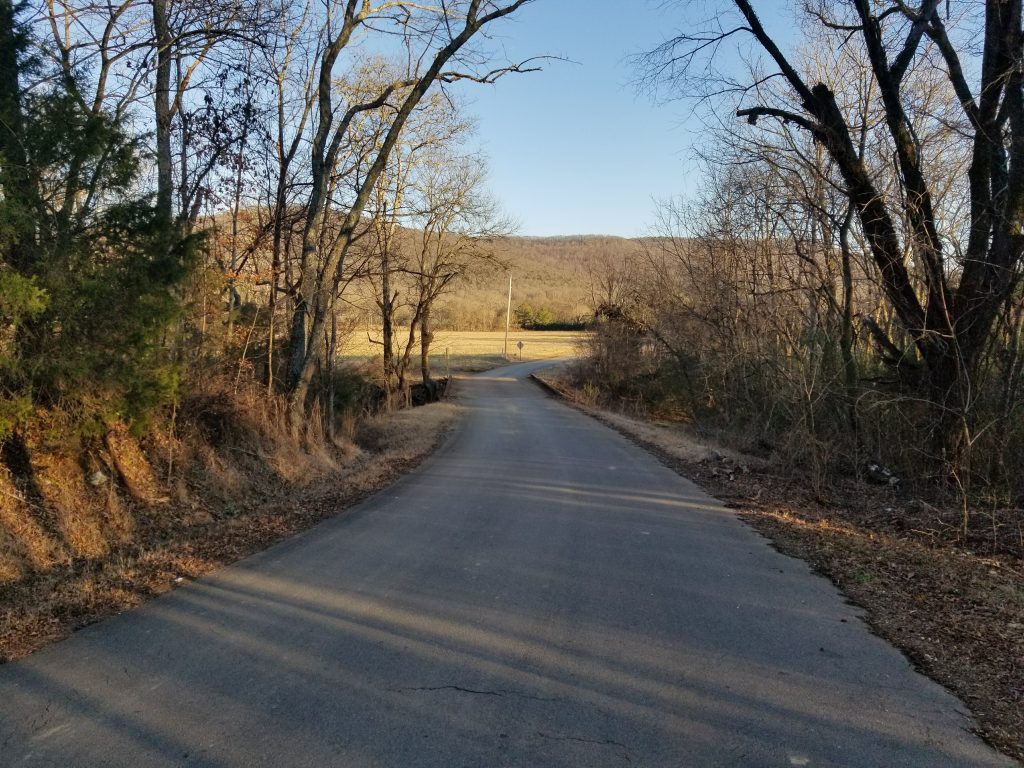 This one started by almost immediately crossing a stream.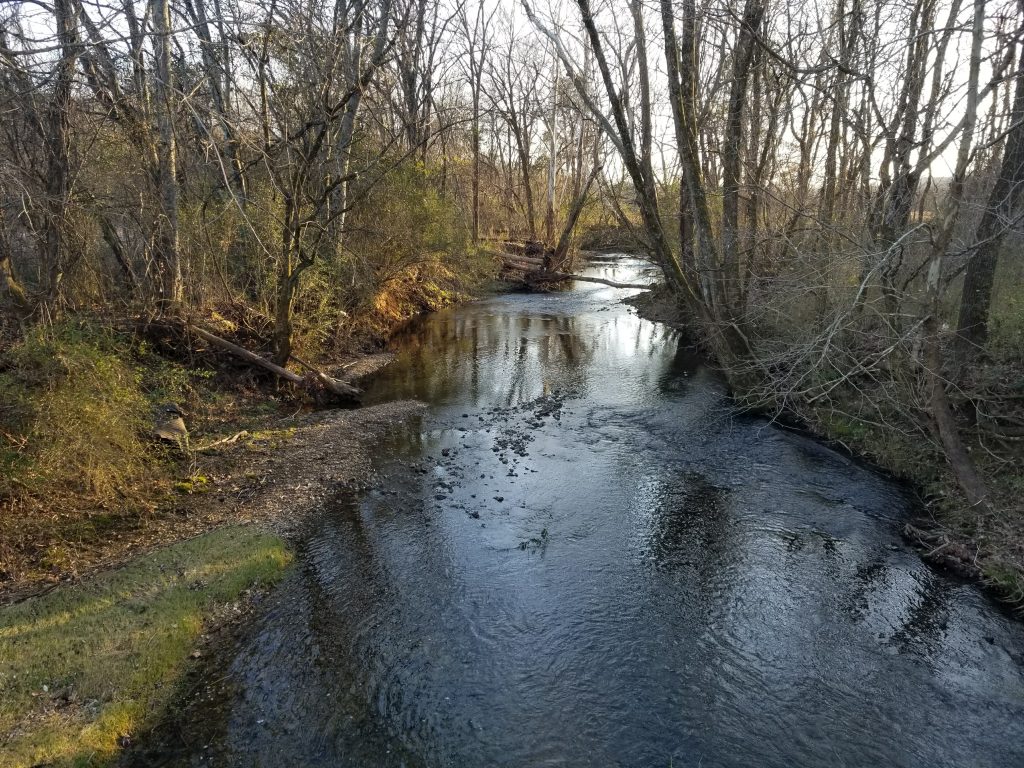 From above I heard only a faint burbling, but if I leaned over the bridge the full voice of the tumbling water became clear.
Thank you, I said silently.
Years ago when I made some  hard decisions to give myself the room to heal from a toxic friendship that infected many areas of my life, finding running water at the local park was an essential part of my healing process. Every time I listened to the water I felt like it was taking all my negative emotions away, and leaving peace behind. I tried to listen to audio recordings of water to get to that place from the comfort of my house, but it's not the same. I don't know if it's the audio quality or the virtue of being outside, but only live running water has this effect. Finding a stream so close to me made me so happy.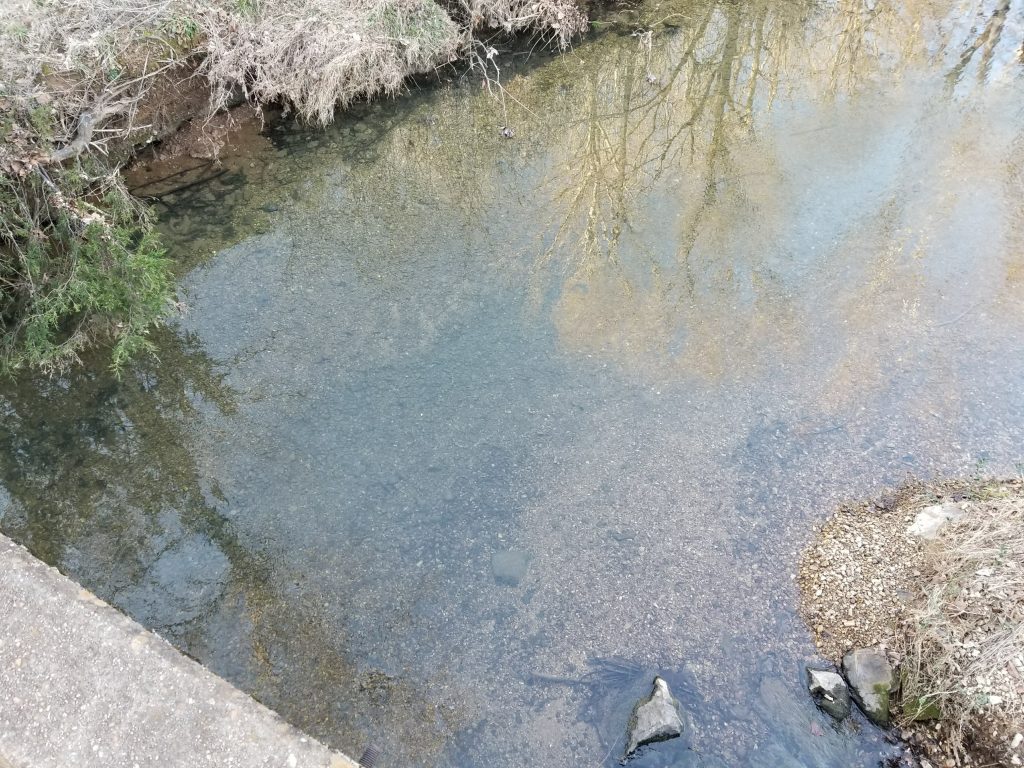 I sat on the concrete lip and dangled one foot into the open. I wanted to get both feet over and swing them in the air, but I considered the risk vs payoff: If I fell, I would live, but get wet, bruised, and ruin my phone. Plus it would be incredibly embarrassing and Chris wouldn't let me live it down. I decided against it.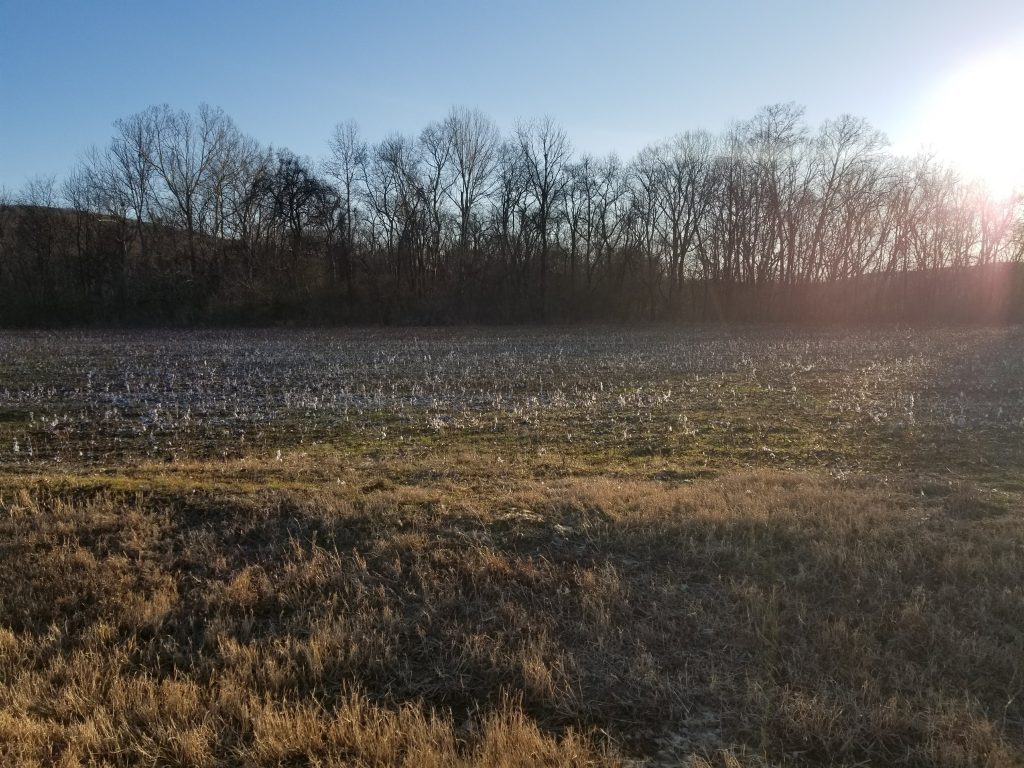 Moving on I passed this harvested cotton field. Like most places, Alabama is bleak in the winter, but I invested in finding the beauty in whatever I saw. There is a stark beauty here, even among the dead grass and cotton stems. Being in the golden hour helped, too.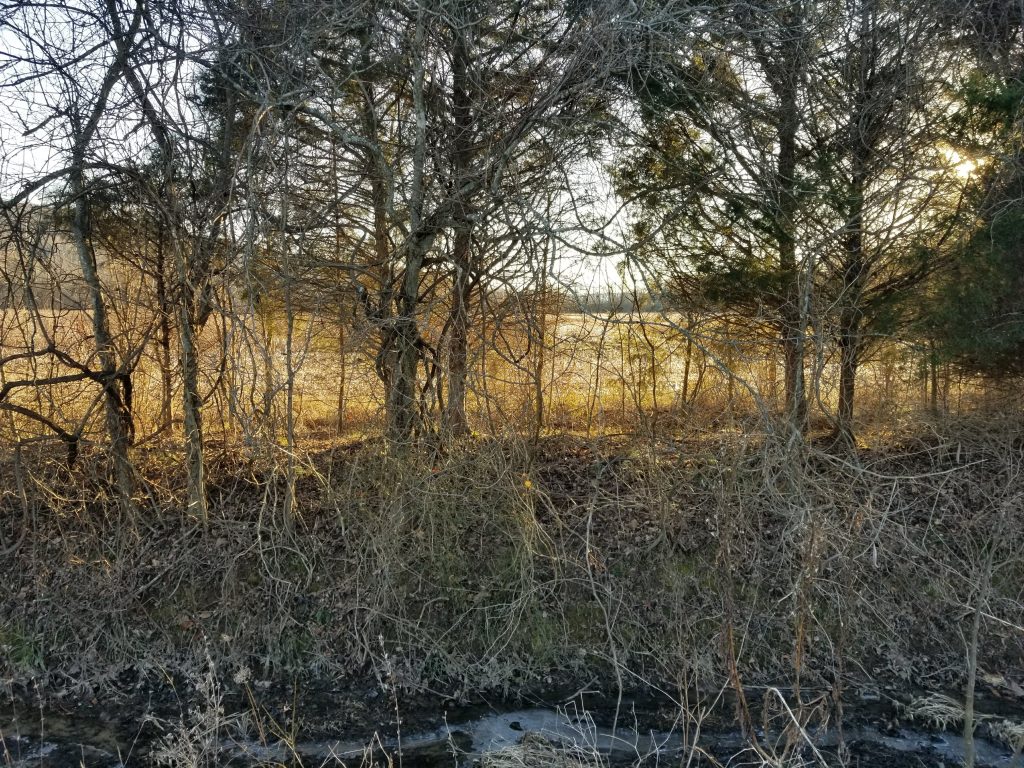 The  next field shone behind this barrier of brush, visible only due to the winter hibernation of the plants.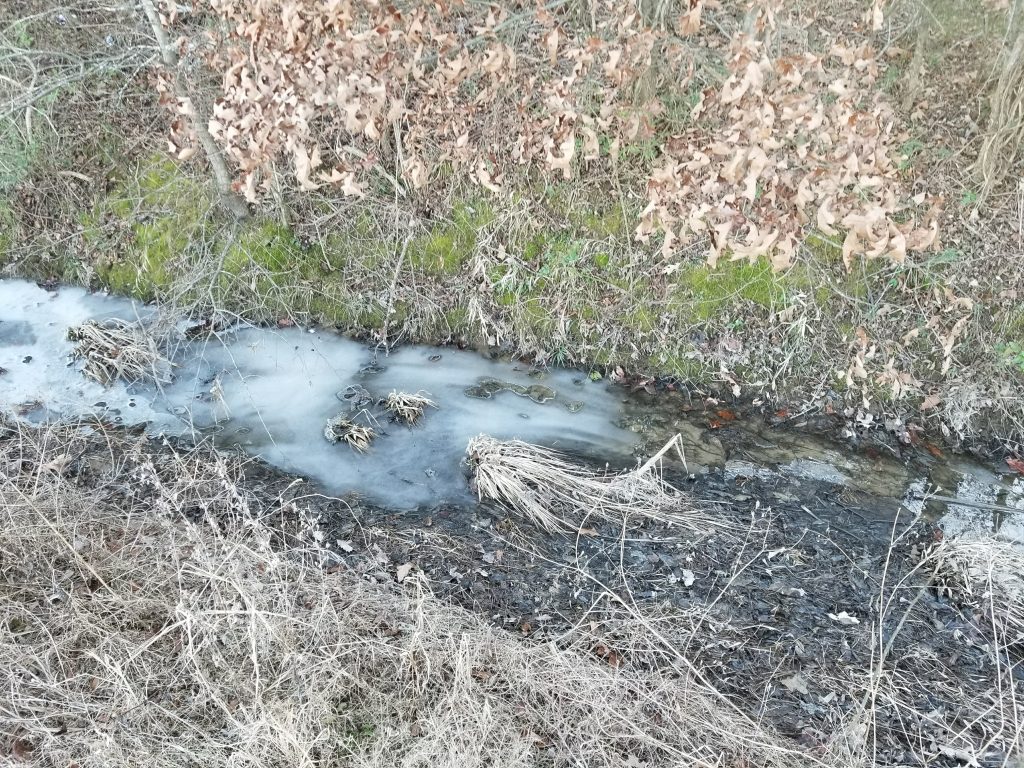 The white parts you see here are ice, still lingering in the shade despite the relatively warm temperatures elsewhere.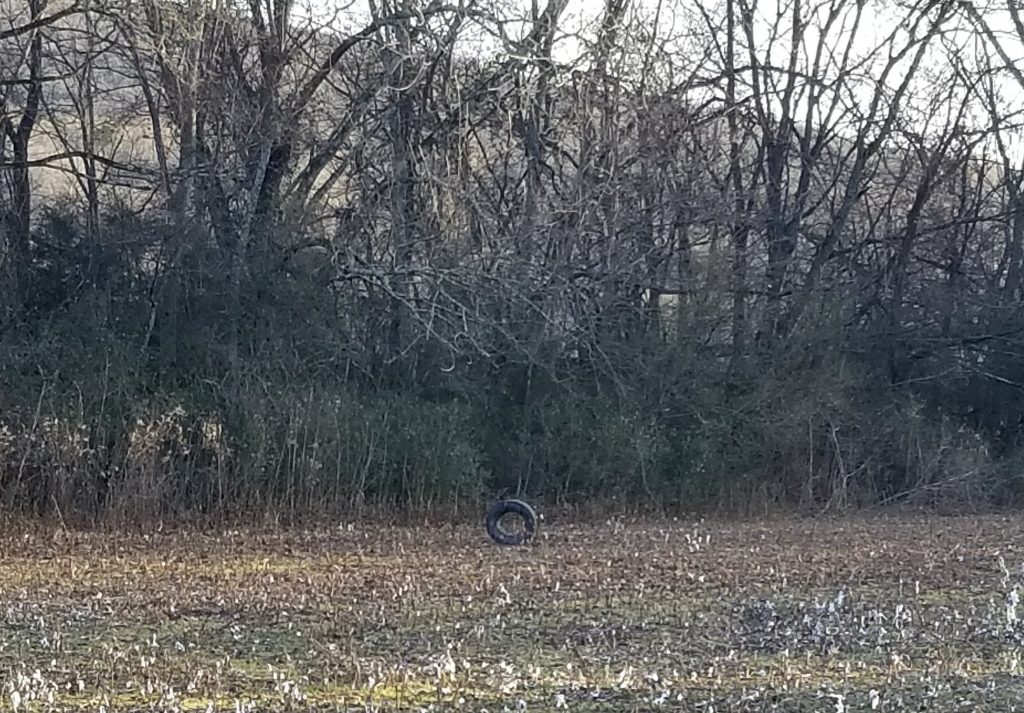 Check out this tire in the little cotton field. Obviously the field was harvested all around it, which implies the tire came to the field within the last few months. How did it get there? Why is it standing upright? Where did it come from?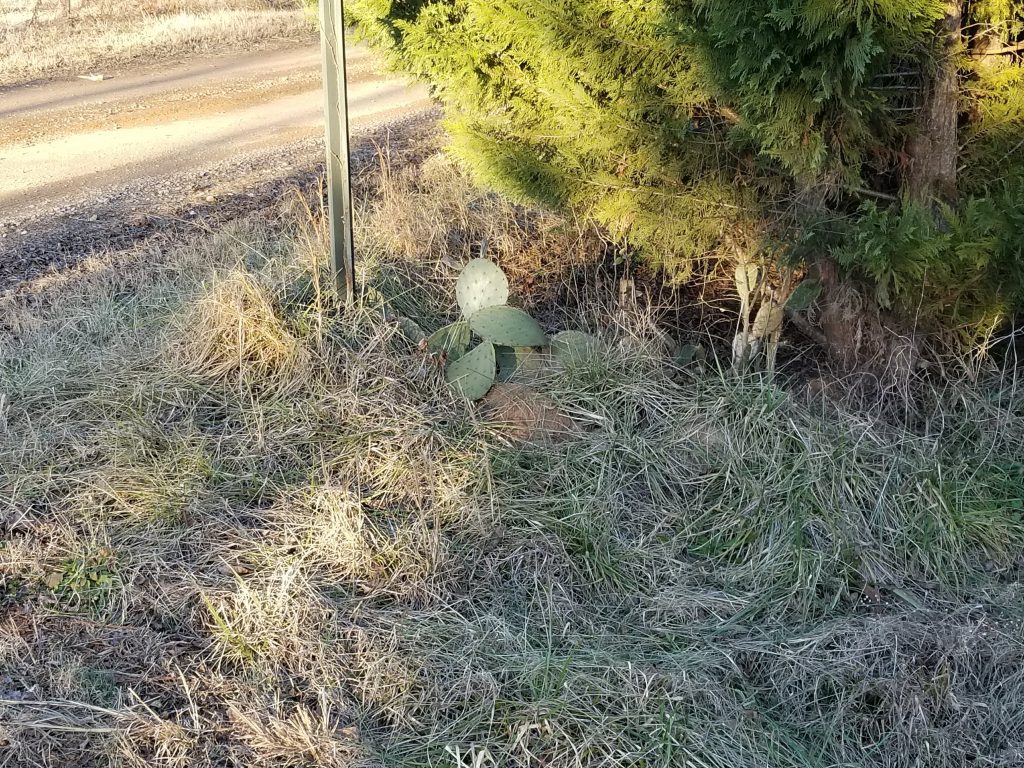 I spotted these cacti growing at the base of a speed limit sign (cautioning 10 miles per hour). I don't think cacti are native here, but I see them now and then, especially around mailboxes, so I assume they are planted for a purpose, though I don't know what it could be. Maybe people just like them.
Before the curve at the end of this stretch of road sat a property surrounded by both a wooden and wire fence. The house flew three flags from its porch: two Confederate, and one Don't Tread On Me. No American flag. I wanted to take a picture to show you, but even though such a thing is legal, it didn't seem wise. This is rural Alabama after all, and I didn't feel like getting harassed.
As I dithered over the morality and risks of taking a picture, a small Border Collie emerged from the house and sped across the lawn to bark at me. It was a lovely little dog with a delicate, pretty face. My mother had a series of rescued Border Collies as I was growing up, so I'm familiar with the psychology of the breed. I wondered what job its owners had given this particular dog to keep it occupied, and decided it must have employed itself as a protector of the property. Good dog.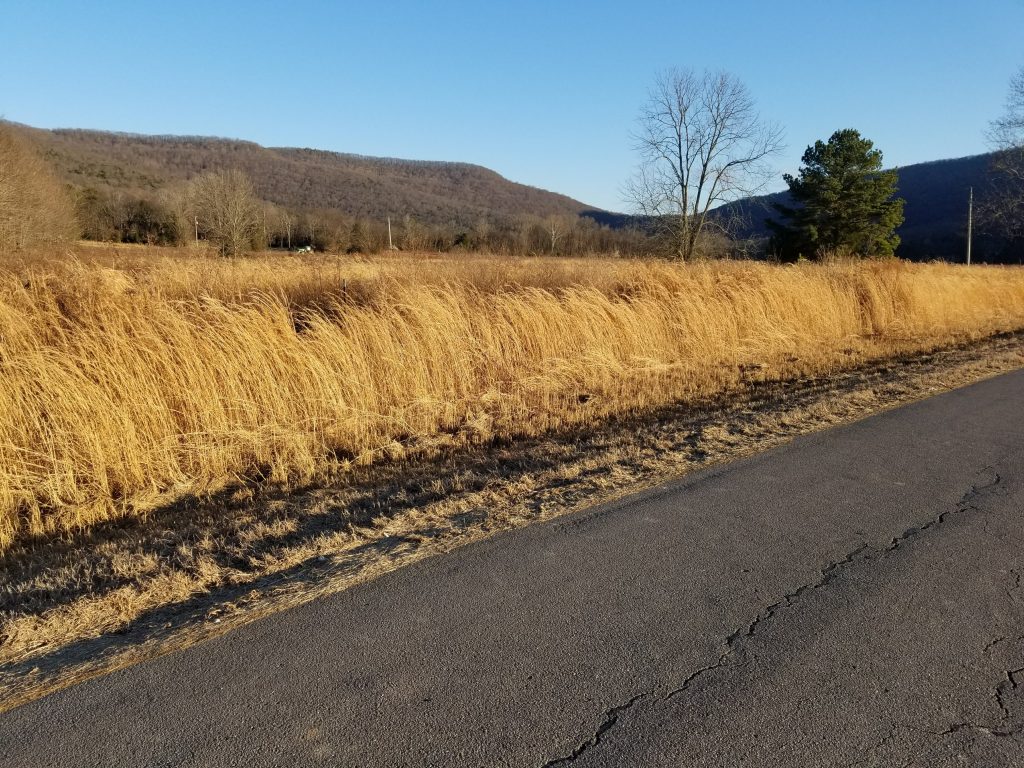 Around the corner I found another blessing: this grass.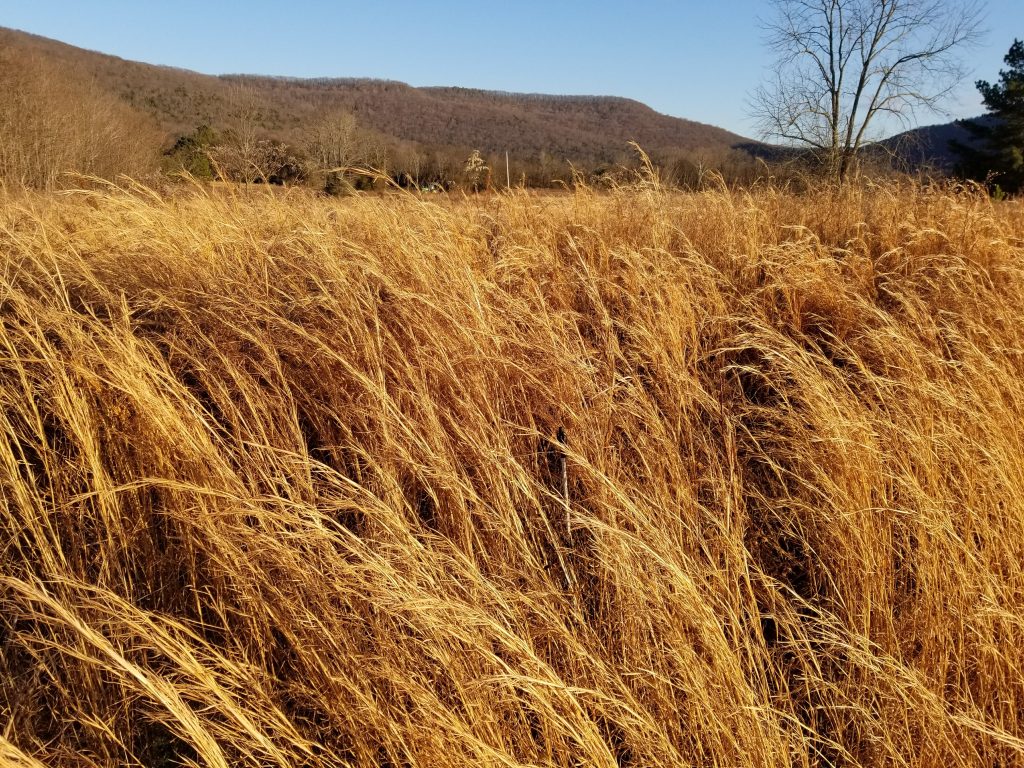 When I was younger and my family would make the yearly cross-country pilgrimage to my mother's cousin in Montana, wild plains of grass like this always captured my heart. I used to fantasize about an entire world made from it, a la the planet-makers in Hitchhiker's Guide to the Galaxy. I want heaven to look like this, sometimes.

More pasture. More empty cotton fields. See how naked the trees on the hill are?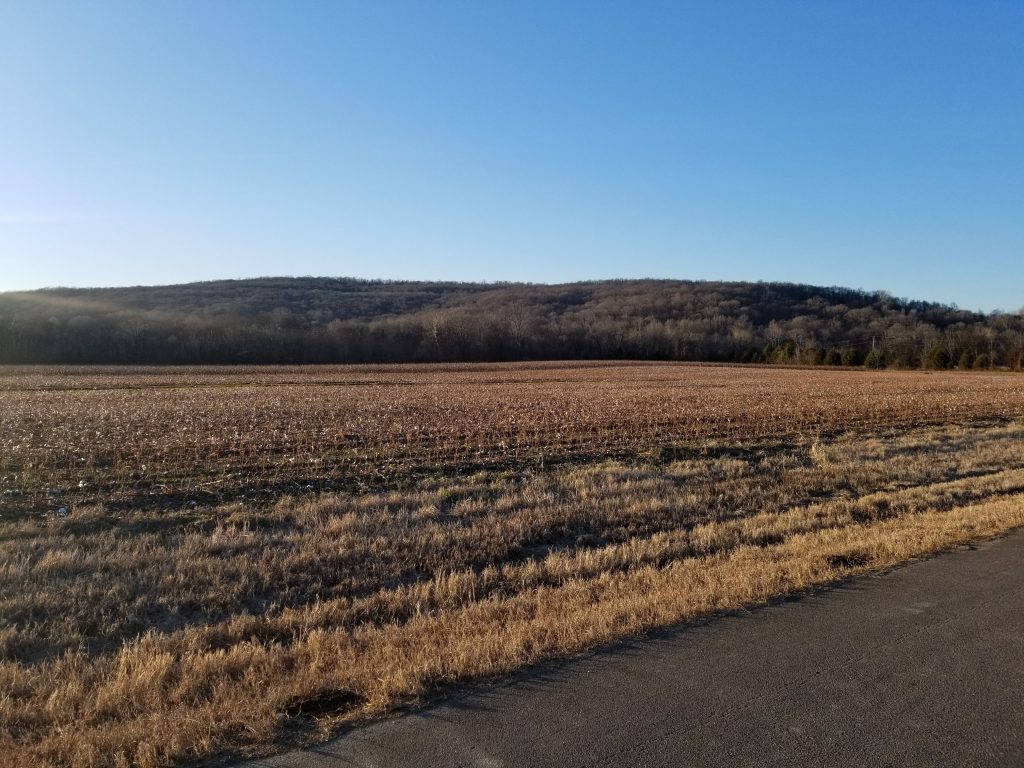 Someone was burning something, somewhere. The wind brought me snatches of smoke, that good kind of wood-burning smoke that reminds me of autumn and the many, many campfires I have known.
Here's an up-close picture of some cotton remnants. Seeing the cotton is always uncomfortable — an obvious trigger for the reminder that this is the South. I wonder what it's like to see cotton fields as a descendant of those who worked these fields without choice.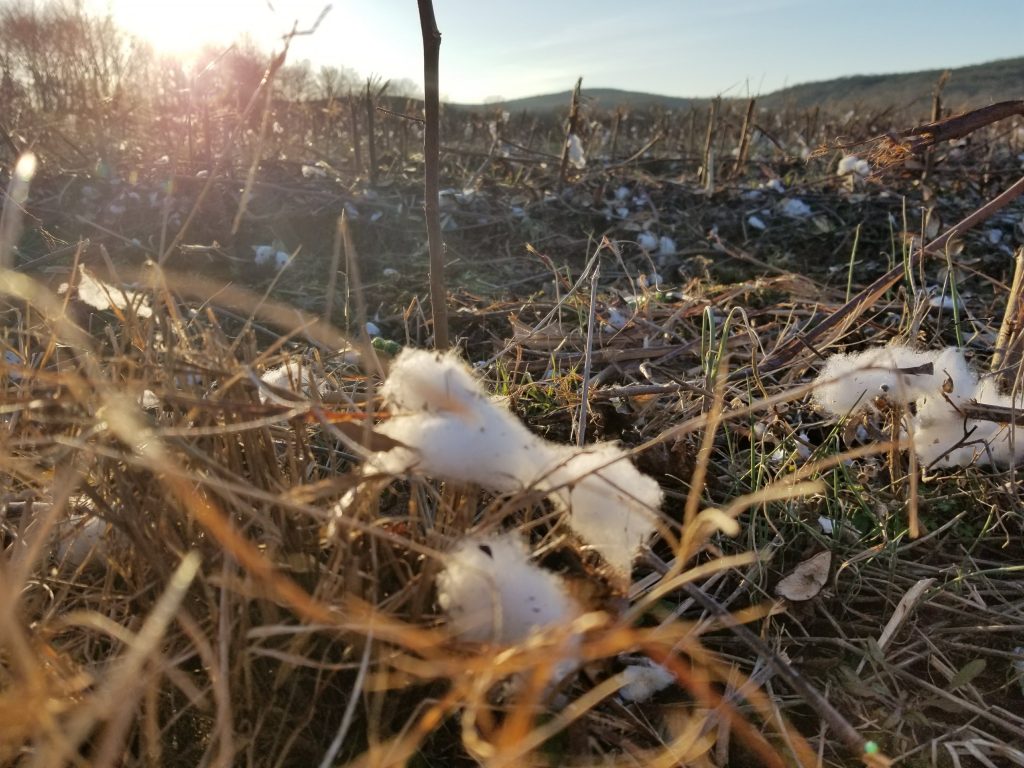 I go into houses, sometimes, and see decorative bunches of dried cotton plants in vases. I don't like it. Not only are dried cotton stems not very pretty, but it seems so insensitive. The obliviousness to this insensitivity is in itself insensitive.
In elementary school Chris's class visited a cotton farm, and picked woolly heads from the stems. They weren't allowed to keep them, though. Everything the children picked stayed at the farm. The mother of one of Chris's classmates called the school and raised holy hell. Did no one think through what it would look like to have black students picking cotton for free?
I'm sure it was simply meant to be an agricultural lesson. And why should the farmer let some suburban kids walk off with part of his harvest after he/she has already generously let the school come observe their working farm? Some parents wouldn't have minded. This one did. I think she has that right. Some wounds run deep.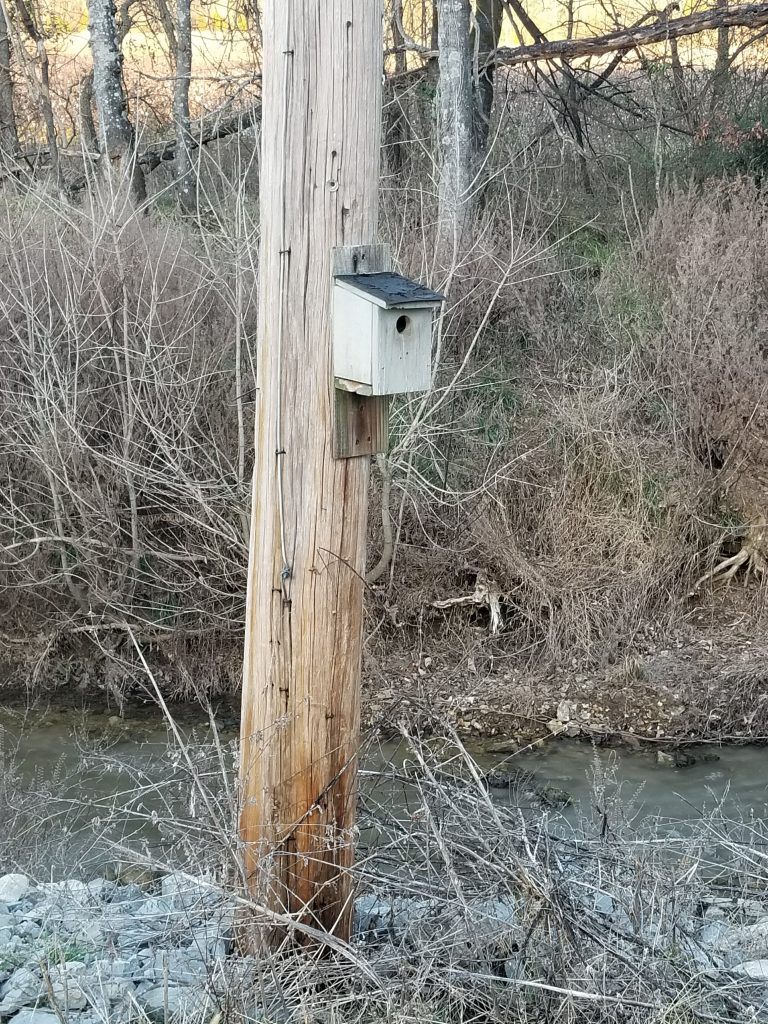 I found this bird house attached to a telephone pole, not near any sort of dwelling. How cute and kind is that?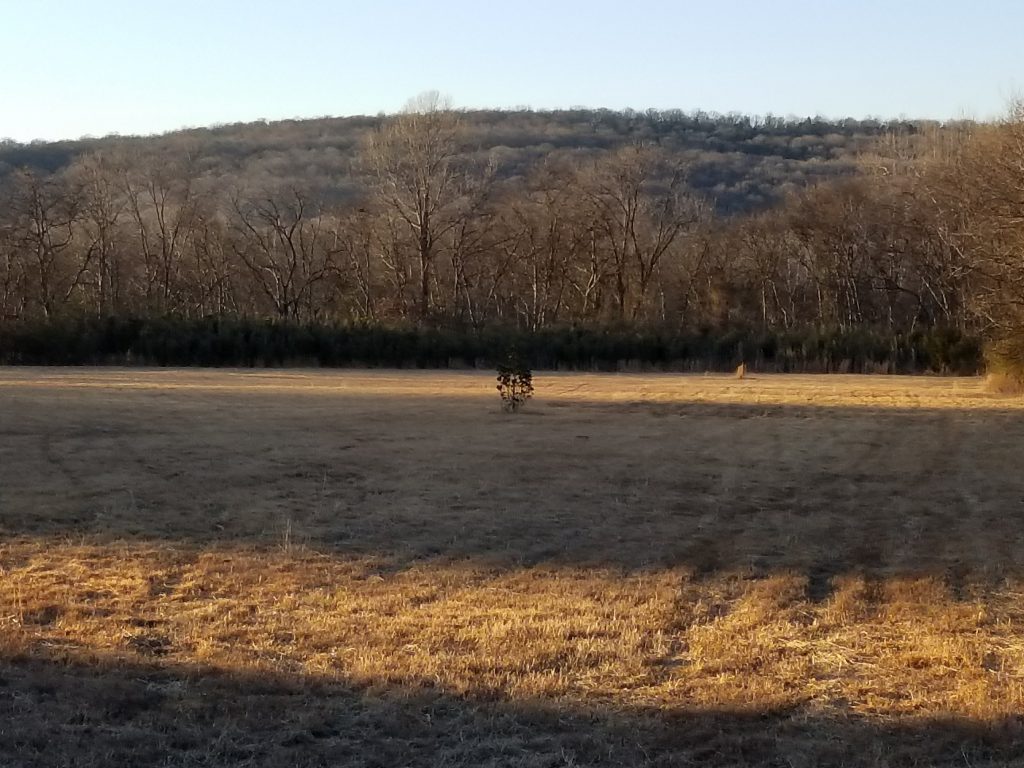 Look at this magnolia tree in the middle of the field. That happens a lot — you'll see a tree, or a cluster of trees, seemingly randomly left to exist in an otherwise perfectly-leveled field. Someone told me once it's so farmers can mark distances, or separate fields into virtual sections. I don't know if that's true or not. But I've never seen a magnolia tree in the middle of a field before. I wonder if it was planted on purpose, and who liked magnolia trees so much.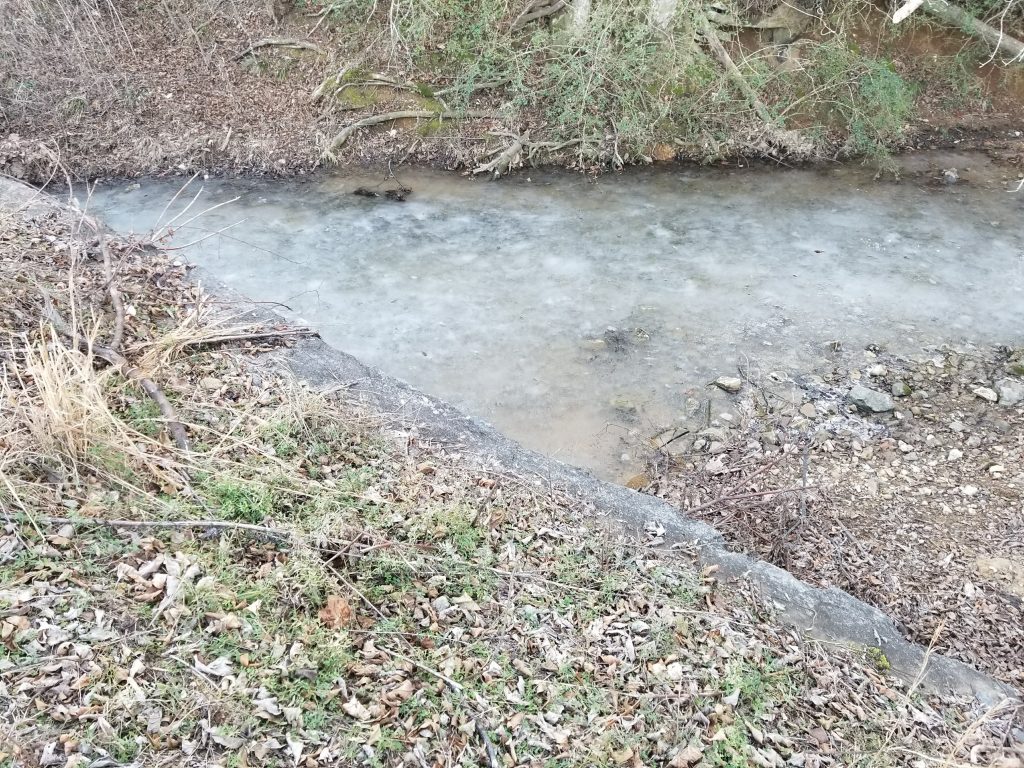 I crossed another bridge and saw more ice. Shortly after this bridge the road forked — one path led deeper into the hills, rolling and shadowed. The other stretched gently upward toward houses, and seemed as if it would curve all along this pocket of valley. I wanted to go further, but it was getting darker, and colder. I decided to give myself the gift of exploring those roads another day.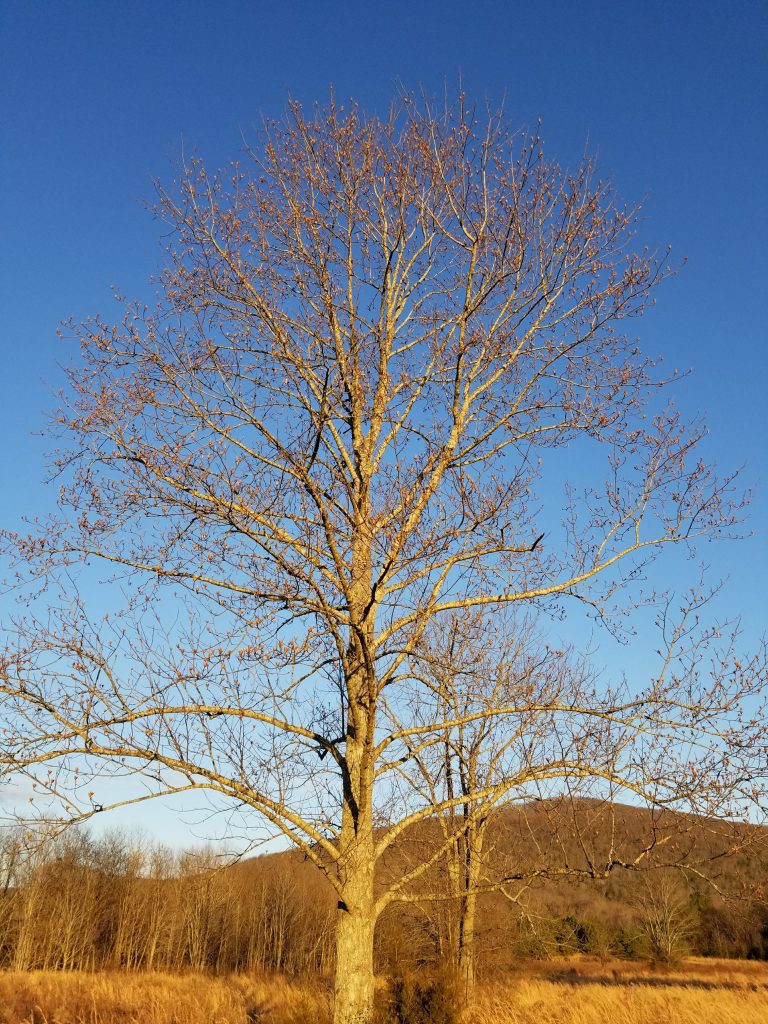 Almost to the Confederate house now. I paused to admire this tree, still holding on to its seed pods. I'm not sure what kind of tree it is. The seed pods look somewhat like papery chestnuts. I wonder when they'll drop. I think about how cool it is that tree branches spread the way they do.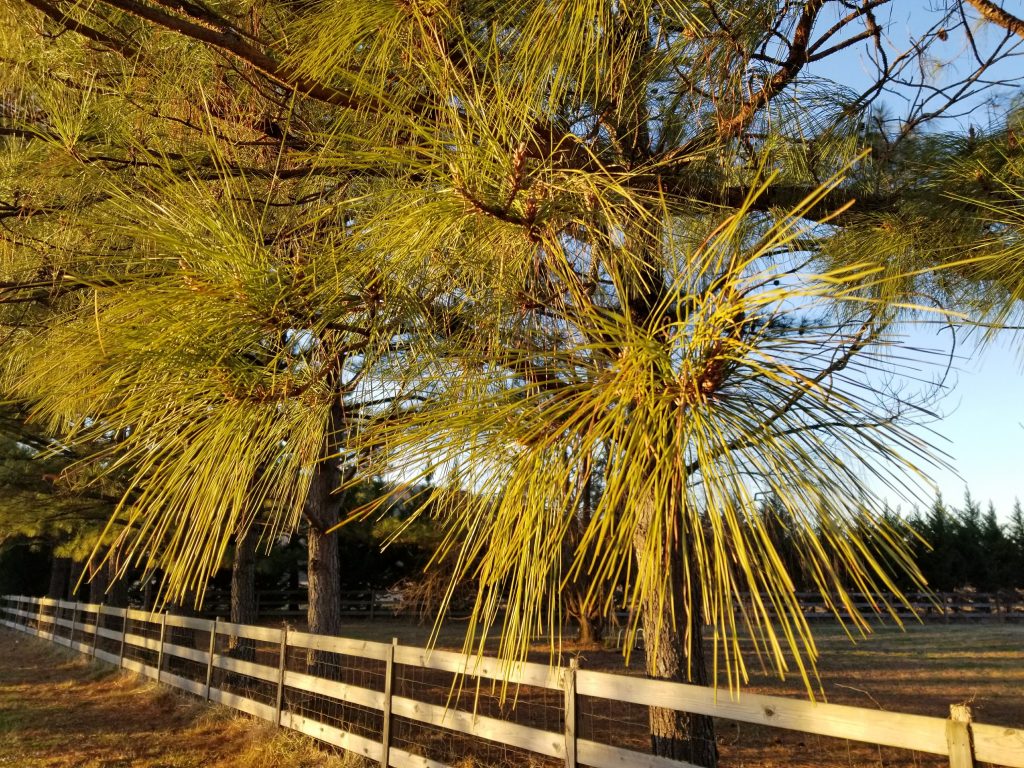 This tree caught my attention (I think it's an Eastern White Pine?). I've seen trees like this all my life but I'm trying to notice and appreciate more. I had fun imagining encountering this tree on an alien planet — it's so goofy it could totally be an alien tree! This amused me for several minutes.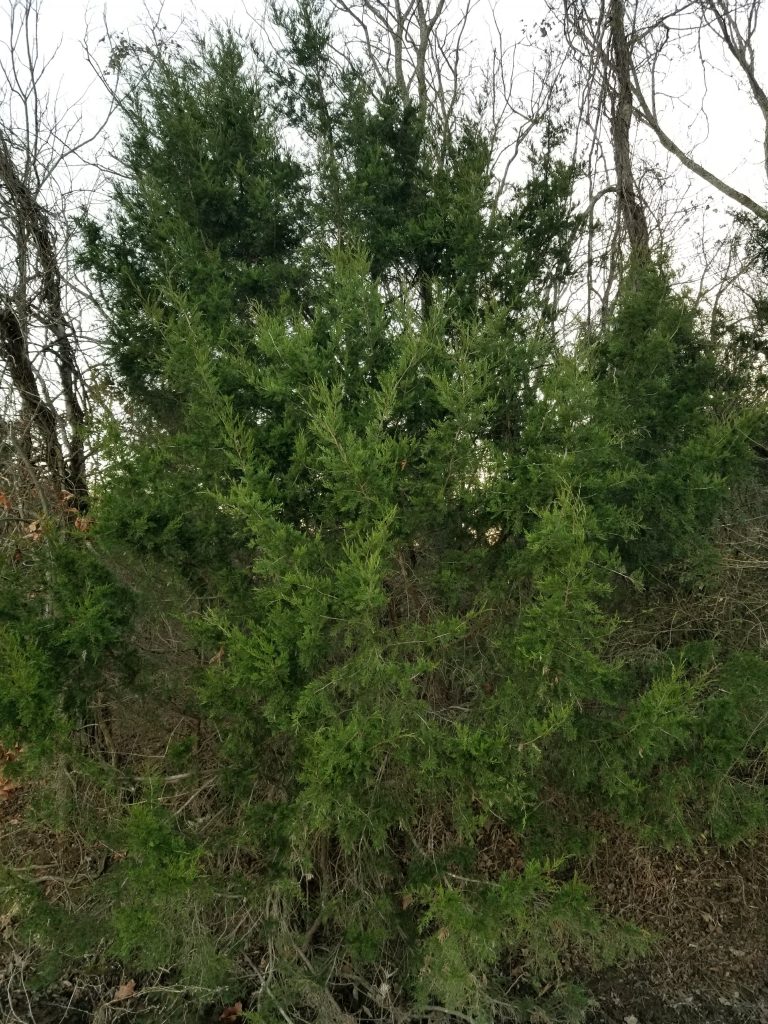 Last picture on the way home. Seeing evergreen trees like this reminds me of of what all this beauty is lacking. As a child of the Pacific Northwest I miss my fir trees, especially in the winter. Around Christmas I got excited to make my own natural decorations, but so many depended on fir trees, and this is a deciduous place.
In a way it's nice. The forests of Washington are thick and tangled. The floors here are mostly clear, due to the floods of leaves that cover the ground and prevent new growth. It makes for nice hiking, but personally I don't find cedar trees as beautiful as fir trees.
When I worked in the garden nursery almost ten years ago, I was flabbergasted to see that people actually sell blackberry bushes down here. In Washington they're a menace, growing everywhere and clogging up everything. Here they're not native, and you have to cultivate them. What a scam. ;-)
Thank you for walking with me <3
–
Somewhere on this journey I bruised the inner arch of my foot. The dogs and I walked this road again and ventured up the hill and along the houses the next day, and my foot hurt on every step. We encountered an adorable and very bold miniature pony who seemed very interested in meeting the dogs, but I demurred. Maybe next time.
I'm dying to get out there again while the weather is still good but I think I need to be kind to my feet. It's okay. The anticipation and longing is half the fun.
Things are going well. I'm writing, and reading, and schooling. Chris got me an amazing new laptop bag for Christmas (it's purple!). The holidays were peaceful and fun. Chris's car threw a rod so we're now the owners of a hybrid. Unfortunately I live so far from work now that the charge only gets me there one-way, lol. Still, it's a major savings on gas.
I hope you are well, too. Until next time,
<3, Savannah