Life has been very good — and very busy! — over the last few months. First up — my sister got married this weekend!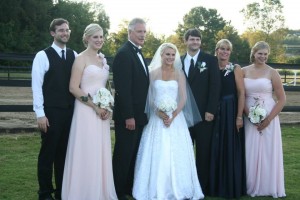 The ceremony took place at my family's stables, with reception in my parents' backyard. It was lovely and filled with light, but best of all it was filled with family!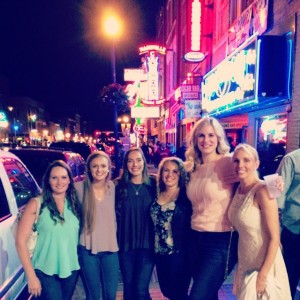 Here's me with some of my cousins (and an aunt!) up in Nashville two days before the wedding. Most of the family flew into Nashville the first night so we went up and stayed with them, and partied on Broadway. Let's just say much fun was had by all, and leave it at that.
My family is big, and loud, and full of love (and partying!). One of my favorite parts of the wedding reception was dancing down a line of clapping relatives and getting goofy with it. The photographer was snapping away like mad so I should have some delightfully ridiculous photographs to show you eventually.
New Zealand
Long story short, my sister (not the one who got married) has an opportunity to live with and learn from an amazing horsewoman in New Zealand who has stayed with our family before, so I agreed to accompany my sister over to New Zealand and get her settled in for her two-month-long stay. We leave in two weeks!
This will be my first real out of the country experience (I went to Canada once as a kid, before they required passports, so that doesn't really count) and I'm thrilled nearly almost unto death!
Any followers in New Zealand, or Sydney for that matter? My sister and I have a 13-hour layover in Sydney and we're doing a whirlwind tour!
Writing
Except for an interlude for the wedding, writing is going very well! I'm working on edits for Cobworld and still brainstorming on Shotgun Girl, but it's all taking form. I was hoping to be able to work on Shotgun Girl for NaNoWarmUp, but unfortunately with the edits and the traveling (!!!!!) I don't think that will take place. But here's the current playlist for Shotgun Girl if you're curious!
Talk to you soon!
<3, Savannah
PS: Here's a 'before and after' on my wedding hair! The hairspray/teasing combo gave me hard little hair nuggets that took two shampoos, a hair mask, and brushing in the shower to get it all out! Worth it though :)