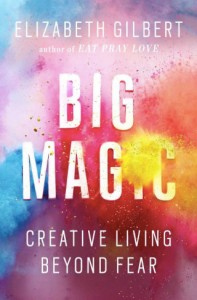 This is the best book about writing since Stephen King's ON WRITING.
You guys know I don't post book reviews that often. Something has to really blow me away to be worth blogging about, but when I was reading BIG MAGIC I wanted to contact every single person I knew and make them read this book.
It's not actually about writing per se, but as a writer of course every nugget Elizabeth shared I directly related to my writing life. BIG MAGIC is a non-fiction sort of self-help book about creativity — how to find it, get it, keep it, and drastically improve your happiness.
I wanted to pull a quote off of practically every page. Eventually I couldn't stand it anymore and got my notebook out and started actually doing so.
Some of the best quotes and takeaways:
The insistence that art does not have to mean suffering, and in fact the suffering artist is probably not creating to their full potential, let alone living a fulfilling life.
An AMAZING anecdote about how a novel premise she abandoned jumped into the head of a friend that will have you believing in true magic.
The radical notion that the creative spirit is not within you, but a separate entity, one you can address and court and form a partnership with. The idea that you have to show your work you want it, not just hope it wants you. It's a little hokey but I've been using the concept for Cobworld edits and wow — things are clipping along MUCH faster than usual.
"You can measure your worth by your dedication to your path, not by your successes or failures. You can battle your demons (through therapy, recovery, prayer, or humility) instead of battling your gifts — in part by realizing that your demons were never the ones doing the work, anyhow."
I read this book a few months ago and my writing life has been much improved ever since. That kind of long-term improvement is pretty rare, right? Read this book. Results not guaranteed of course, but you'll have a great time trying.
<3, Savannah