Man, October blew by, didn't it? November's going to be a fast one, too, particularly for me: I'm having upper palate surgery on 11/4 and will be recovering from home for up to 2 weeks, depending on swelling and bruising. Adult braces is intense stuff, you guys. Wear your retainer!
Here's what tickled my fancy in October:
Song:
The new Lana del Rey album came out, and although I'm a huge Lana fan it took me a while to listen to it. I have this problem with new music by artists I love; I usually dislike the new stuff until I listen to it a few times, then I fall in love all over again. Chris recently got us a vinyl player, and I was playing the new album while cooking when I really heard this song for the first time, and I had to stop what I was doing and listen because it was so beautiful:
Quote
This quote hits me on so many levels. Obviously up first is the systematic silencing of victim voices, and mis- or re-interpreting their words to support an inaccurate view of the situation. It's so important to speak up and make yourself heard.
On another level, lately I've been preoccupied by the thought that when we are dead, our actions, words, and intentions are left solely to the interpretation of the living. Once you die, you don't get a say anymore in how you meant something. Chris and I watch a lot of true crime shows, and watching police and loved ones try to piece together what a deceased victim was thinking or feeling makes me realize that when we look to the past we expect opinions, feelings, and outlooks to be static. If someone stated a view ten years ago in their diary, we expect them to hold that view indefinitely. But in reality we are all mercurial, with flexible moods and opinions. What I'm upset about today I could have sympathy for tomorrow. When I saw this quote is just reminded me how important it is to leave a record of ourselves behind.
Tweet
Finally! A copyeditor who loves em dashes as much as I do.

— Victoria Schwab (@veschwab) October 9, 2015
As a staunch em-dash lover as well, this tweet filled me with joy (and relief!)
Picture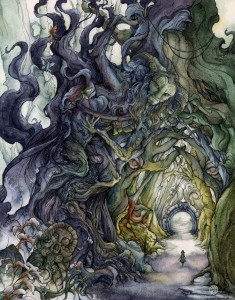 Chris and I saw this amazing watercolor on reddit, and we loved it so much we contacted the artist, Faryn Hughes, to do some commission work for us. I'll post it when we receive it!
Book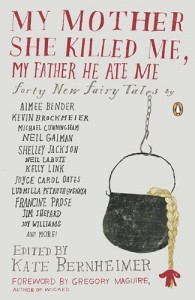 I've had this fairytale collection on my nightstand for more than a year, reading a little bit at a time when I could. I finally finished it and highly recommend this unique and varied collection of brand new fairytales from very gifted authors. It made for great bedtime reading.
–
Lastly, I hope you had a happy and fun Halloween! Here's me as Dr. Rowan Mayfair from the Mayfair Chronicles by Anne Rice, with a little girl I sometimes babysit: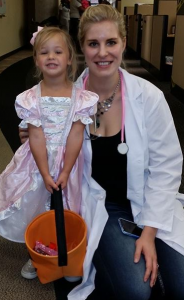 And also a shot of me at Paintball this last weekend. It was nerve-wracking but fun, and I have the leg bruises to prove it! Favorite part… when Chris thought I was on the enemy team and absolutely lit me up even though I was already out and just trying to escape the field. Thanks, husband!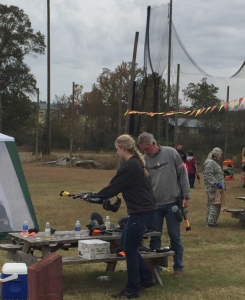 Wish me luck in surgery!
<3, Savannah