What an exciting month it's been! I'm working on more edits for The Cobworld, and I wrote/published a new short story on Wattpad called The First Girl. In my personal life I launched a huge fantastic morale project at work, walked in the St. Jude's 5k, and have been studying/doing homework like nobody's business.
Song:
Very different from last month's song (and also very NSFW so watch out!) A coworker pointed me towards this band and I fell in love immediately. More faves are Ugly Boys, and Baby's On Fire. I definitely splurged and bought all three albums.
Quote
This quote comes from an interview GQ did with Stephen Colbert (I love GQ — I should really get a subscription since I buy it monthly…) where he discusses one of the great tragedies in his life–the death of his father and brother when he was only 10. The whole article is great, and the last part especially.
I love the thing that I most wish had not happened.

I asked him if he could help me understand that better, and he described a letter from Tolkien in response to a priest who had questioned whether Tolkien's mythos was sufficiently doctrinaire, since it treated death not as a punishment for the sin of the fall but as a gift. "Tolkien says, in a letter back: 'What punishments of God are not gifts?' " Colbert knocked his knuckles on the table. " 'What punishments of God are not gifts?' " he said again. His eyes were filled with tears. "So it would be ungrateful not to take everything with gratitude. It doesn't mean you want it. I can hold both of those ideas in my head."

He was 35, he said, before he could really feel the truth of that. He was walking down the street, and it "stopped me dead. I went, 'Oh, I'm grateful. Oh, I feel terrible.' I felt so guilty to be grateful. But I knew it was true.

"It's not the same thing as wanting it to have happened," he said. "But you can't change everything about the world. You certainly can't change things that have already happened."
The whole article, especially the end, is fantastic. And it really hits home for me, this month especially as a friend came back into my life and helped me process some painful things that happened a few years ago. Although I couldn't have understood or accepted it at the time, the painful things that happened so significantly changed my life for the better that now I'm grateful they happened. They challenged me to be a better person, and a better writer, and now I wouldn't take it back.
Tweet
Instead of one particular tweet, I enjoyed this article on Twitter Advanced Etiquette.
Picture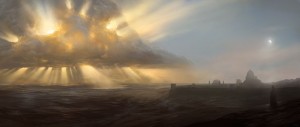 Not only is this picture gorgeous, but it links to an amazing and in-depth review by an artist of their own artistic history and growth, which I found both humbling and inspiring.
Book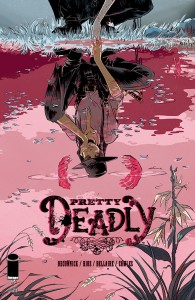 This AMAZING graphic novel by Kelly Sue DeConnick gave me both goosebumps and tears. I'm not a huge graphic novel fan but this is one I can't wait to own, and I'm DYING for the next volume! It's a bloody, gritty western about Death, his dangerous daughter, and the band of renegades caught in the crossfire. It's got everything I love: twisty history, dark secrets, lost love, and spine-tingling fight scenes. Cannot recommend highly enough.