Typically when people talk about why they became writers, they share one or both of these reasons:
1) Insatiable love of books
2) Insatiable need to tell stories
You guys know I'm totally unafraid to talk about that magical pull to write, but today I've been thinking about another reason why I became a writer. The first reason, in fact: My family.
For the next few days I'm staying at my parents house while they visit my sister who's doing spring training with her equestrian coach in Florida. Have I ever mentioned that my family is really into horses? As in, they bought a farm to turn into a stables and riding center? As in, when I moved out my little sister immediately moved into my old room and filled it with horse stuff?
I am not kidding: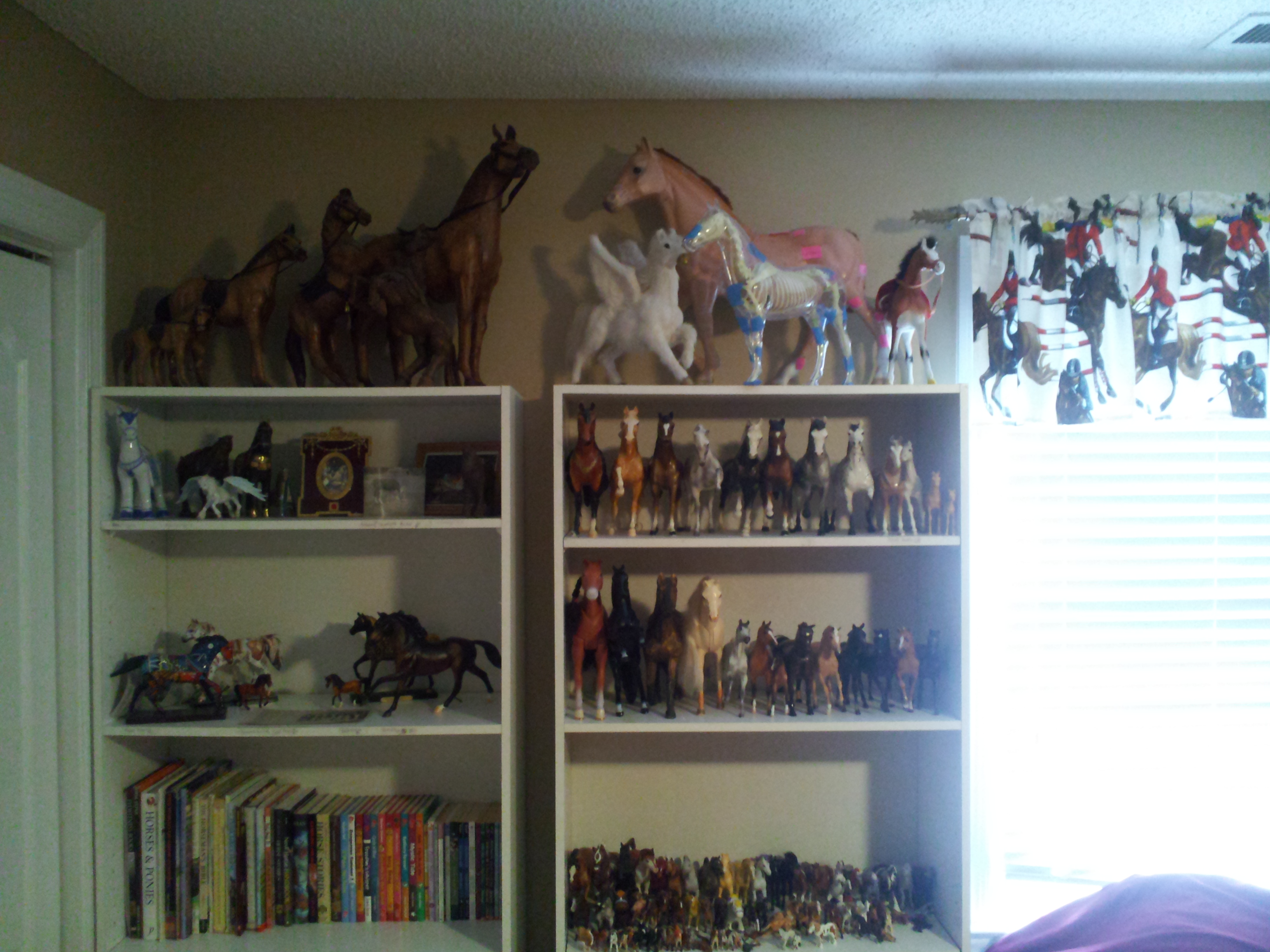 Anyway, my parent's house is for sale so they can move into their new house on the new farm, so I have to be here to clean in case a realtor needs to do a showing. But I'm also here to look out for my grandmother, who has been having a little heart trouble and shouldn't be left alone, just in case.
Now, my grandmother is known for her reading. When we cleaned out her house after my grandfather died we moved an unbelievable amount of paper grocery bags of paperbacks out from her attic. Oodles and oodles of grocery bags, filled to the brim with dimestore paperbacks. Bodice-rippers, mostly. But my grandmother also read every Anne Rice book ever, the entire Clan of the Cave Bear series, and now she and my mother are working through the Diana Gabaldon books. Because my mother? Totally a reader, too. Those two aren't very technically-minded (my mother still doesn't know how to save a word document), and so instead of surfing the net for fun like I do, they read. They claim to go to bed early -like at 8PM- but we all know they stay up hours past 'bedtime', just reading.
For a myriad of reasons (the time period, small town, domineering men), my mother and grandmother bonded over reading. I feel like they used it as an outlet. Reading was something that was entirely theirs, a secret world hidden right in front of their men that they could slip into at any time. Come to think of it, the only times I can remember them complimenting people outside the family was if those people were talk show hosts (lol), or authors.
As my parents' first, when I was a baby I was read to constantly. To the point where I had memorized every word of certain books and could recite 'read' them back to my mother. The importance of reading was strongly emphasized. I remember my first Hooked on Phonics kit – a huge, blue cardboard suitcase with flashcards and workbooks that we went through every night after dinner. I was sitting on my other grandmother's lap when I read my first book on my own – Hop on Pop, by Dr. Seuss.
So what I'm saying is that I grew up seeing the women around me reading and gushing over their books. Is it any wonder I caught the reading bug, too? Reading by nightlight after light's out, constructing reading cubbies out of blankets and toys under my bed, spending all my saved up money on books at Goodwill, and poring over every Scholastic catalog for the books I was most dying for my parent's to order.
Now that I'm a somewhat professional writer, I keep my mother up to date on the status of my projects, though she's never yet read one of my books. Just now as I was making tea with my grandmother, I started telling her about the part I'm working on in the sleeping beauty retelling, where we view a magical flashback of all the terrible things one of the characters was forced to do to survive. I told her about how the plot for this story is particularly tricky, with everyone lying about what really happened and the truth being just as convoluted as any of the lies, and my grandmother asked me how writers managed to keep it all straight. So I told her about notecards and pinning stuff to bulletin boards, and how I personally kept track of this story, which was by creating world building documents, and different documents for each version of the truth.
Then it hit me. My personal feelings about writing aside, what I became is more of a result of my family history than I thought. Somehow during the years I was growing up, I entered into the magical club my mother and grandmother idolized. I became one of the women who brings them the stories they turn to at night. I penetrated the world of books from the other side, and learned more about the process than they'd ever dreamed.
So while I give myself a lot of credit for how this all turned out, I've realized I didn't really have anything to do with how it all started. That was my mother, and her mother. It was all the books they passed down to me, all the stories my mother waited until I was old enough to hear (reading The Witching Hour by Anne Rice is like a rite of passage in this family).
Of course I view being a writer as a rare, magical thing. This family managed to create one, and I want to honor what they gave me with true success one day. I always considered writing a form of giving back to readers, but today I realized it's also giving back to my family.
So enough blabbering about it :-) Time to return to the sleeping beauty story. But if you want to share how your family affected your reading or writing, I will check back in later and read your stories.
<3, Savannah