In honor of my post on the creative process, I want to give away my favorite brainstorming tool: The Most Awesome Notebook Ever!
Like most writers I love journals and notebooks, but the problem is I can't use most of them! Either they're way too lovely to write in, or they're too small, or there's no lines, or I can't bend it any way I want. Then, about two years ago, I stumbled upon the perfect notebook: 
How do I love thee, Notebook? Let me count the ways:
Thick pages. These suckers are not gonna give you the same bleed-through action that a normal spiral notebook will. Which is awesome because I prefer the Pilot pens.
Speaking of spirals… spirals! Heavy-duty, will never bend or catch on anything spirals! I can flip this notebook any way I want and there's no fighting or bunching. Totally rad!
Beautiful covers. And not just pretty, but thick and sturdy, too! These covers will never bend on you, and I'm not saying it's impossible, but I've never seen mine get scuffed. WOW!
What did I tell you? THE PERFECT NOTEBOOK.
Here's the thing: they are perpetually on sale at B&N, which indicates, to me, that B&N does not desire to keep stocking them. So whenever I see any I snap them up. The other week I found these beauties in miniature form! Here's one in my favorite butterfly design next to a beautiful brown full-sized one: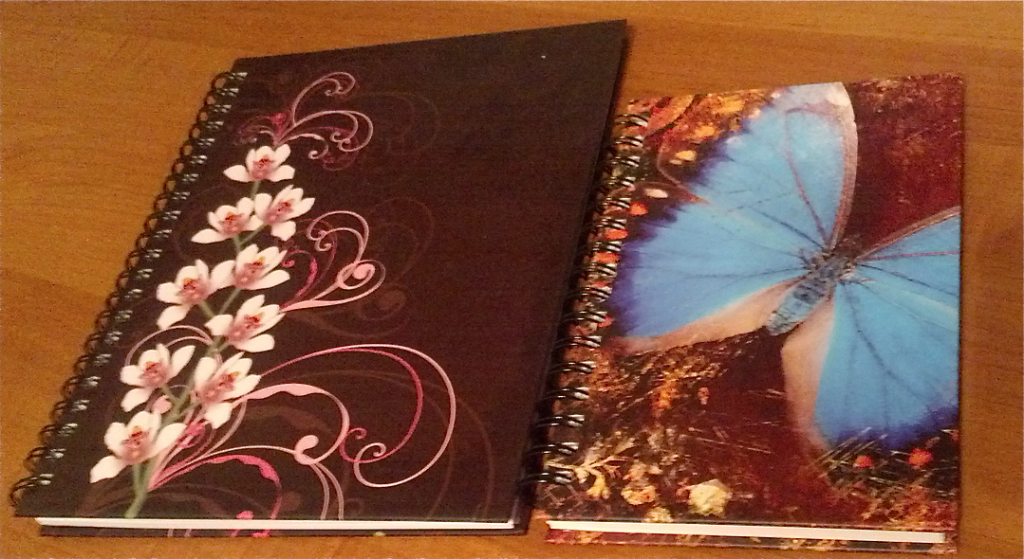 Sooooooo because I love you and we've been talking about brainstorming lately, I want to give you the opportunity to win one of the above two notebooks.
Not only that! But I will write you a very inspirational note on the first page (so you can remove it if you don't want my doodles in your precious notebook. How's that for considerate?)
HOW TO ENTER
Use this handy-dandy Rafflecopter widget below! Please note that this is only open to US-residents only.
Have fun!
Edit: Winners!
Eleni Alexandraki won the large notebook, and McQuinn won the small one! If you guys can email me your addresses I'll get those shipped off to you, hopefully this weekend!
Thank you so much to everyone who participated <3 This was my first giveaway operated solo and I think it was a success. We'll definitely have more in the future!