Last weekend I went to my first writer's conference, where not only did I hang out with three new writer friends, but I test-drove my Halloween costume and did all sorts of other fun things.
The conference attended was Moonlight & Magnolias, which is put on by the Georgia chapter of Romance Writers of America. RWA, you ask? But you're not a romance writer!
Correct, reader, I am not. But my agency sister Madeline Martin is, along with her two friends which became my friends, Hillary Raymer and Ava Milone. Since leaving Pub Crawl I've been sadly lacking in writer friends or companionship, and Madeline and I quickly bonded over… well… actually I'm not sure what we bonded over in the beginning. The mutual knowledge that we would definitely be friends? Plus Madeline writes an AWESOME blog about historical tidbits, including ancient dental hygine, what condoms used to be made of (you know you're curious), and the history of merkins. Yes, her blog is as awesome and funny as it sounds.
Here's Madeline, me, and Hillary at Fancy Dinner. Ava was gracious enough to take the picture: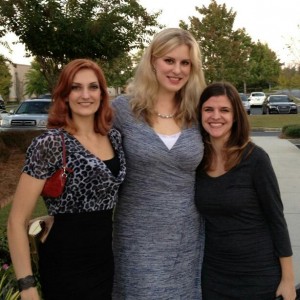 Quick brag: that outfit I'm wearing? It's one of my 'writer' outfits, and with my healthy eating and exercising I'm so proud of how I look in it. Okay, moving on.
The conference itself was focused on the Romance genre, but the classes were generalized so that I did get a lot out of them. There was one class about layering and subplots, and halfway through — even though I knew it was rude — I had to pull open my notebook and start scribbling furiously because I had so many awesome ideas. It's okay, Madeline told me later half of the class was doing it, too. That 2-hour class should have been an hour of lecture and an hour of freewrite, seriously.
There were social events at night, but mostly we visited each other's hotel rooms and did Plotting, where everyone would focus on one person's story and help them work through their plot points, for the whole thing! Some of the girls brought ideas and left with entire plotlines. It was so amazing to see and participate in the creativity, and so fun!
Explaining the sleeping beauty story to 3 virgin readers was an interesting experience, though. I was hoping for plot help with my outline of Book 2, but it turns out there's not really such a thing as a 'quick recap' of Book 1. I thought I did pretty good with my MC, the journey, and the resolution, but as we waded into Book 2 I had to go back and explain all the subplots and secondary characters.
It made me realize how detailed this project has gotten. When I first started writing it, I didn't know the rules or the world. The first draft was as intense as I could make it, but it didn't have the depth of this draft. I have a full world here. A history, universal laws, an economy, people, social evolution, etc. I'm proud of myself, yet also humbled in the face of all the work it took, and the process that led me here. I have wondered before how I will possibly replicate detail like this, but then I participated in the Plotting sessions and realized I didn't have to go it alone.
Now the girls are planning a writer's retreat devoted exclusively to Plotting, and though it won't happen until next year I am. so. excited. 4 creative minds working together, figuring out Black Moments and Subplots and Relationship Black Moments and Fatal Flaws… guys, I'm so impressed with my friends and how willing/able they are to help each other out.
Anyway, speaking of sleeping beauty… I only have 3.5 scenes left. The half will be super fun to rewrite, one will be super difficult, and the other two are just filling in details.
I'm excited, yet intimidated (again). I used to receive reviews all the time, but now it's been about a year since I've gotten criticism. Passing off this baby to someone is kind of scaring me a bit. I'm so proud and excited, yet at the same time what if all this work has been for nought? I try to console myself by remembering that this is a /rewrite/, not a first draft. I'm just building on what existed, so it can't have gone terribly wrong :-)
And yes, on Saturday we dressed and attended the Costume Ball. We went in Greek theme, and I specifically was Persephone, Bride of the Underworld: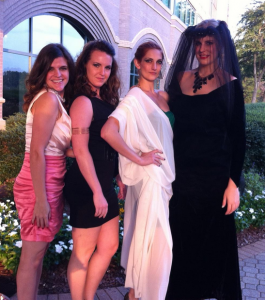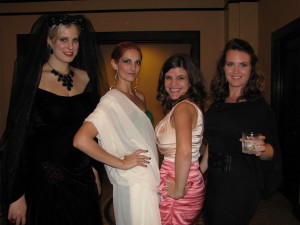 I think Hillary (in pink!) took some better pics of me but I don't have them yet. Remember how I said I photograph oddly? Well I was rocking this beast, veil included.
Of course later dancing got too hot so I changed: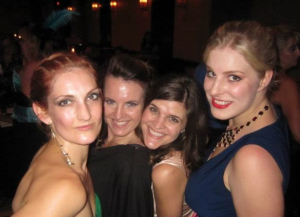 This weekend I'm going to be at the Southern Festival of Books in Nashville, to once again hang out with Kat Zhang and eat at the best sushi restaurant ever, whose owner is best described as The Sushi Nazi.
BUT!
I also get to meet SHARON CREECH AND RL STINE!!!! Sharon is the author of a ton of great books, including Bloomability, which created the foundation of one of my two life goals, which is to live in Italy. The other goal is to be a published author, so, you know, halfway to life fulfillment!
I'm incredibly excited. If you're going to be in the area let me know and maybe I'll tell you where this awesome sushi restaurant is. Maybe ;-)