So apparently the trick to letting wordpress upload my pictures is not to upload the original large-res pics, but instead individually save pictures from Google Photos (NOT downloading them, as you get the same issue) and then uploading those lower-res pics, which wordpress will accept. The more you know!
Anyway, here's the New Zealand trip in select pictures:
First up, Team Shitty First Draft takes Australia!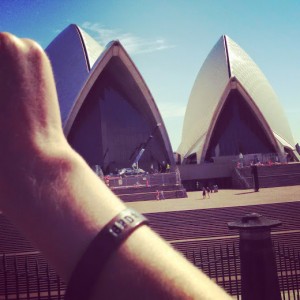 To recap: I was accompanying my 15-year-old sister to New Zealand, where she was going to live with and train under her horse riding idol for a month. We'd previously hosted this marvelous person at my family's stables in August, so my family was comfortable with my sister staying with her, but the cross-planet trip freaked my parents out a bit, so like the martyr I am I reluctantly agreed to escort my sister to New Zealand and get her settled in. Poor me! Can you believe the stuff I put up with? ;-)
We had a 13-hour layover in Sydney on our way to NZ, arriving at 6:30AM. We hopped off the plane, made it through customs, stored our luggage at the airport and went out into the city!
It was so strange to actually be looking directly at the Sydney Opera House. I couldn't get over it. Every time I looked at it I fell speechless because I am in Australia. Holy cow I never thought I'd get to Australia. When I pictured traveling the world NZ and Australia were never on the list because the flight is soooo loooong and I wasn't particularly interested in them anyway. But no more! I can't wait to get back!
Here's my sister and I in front of the Opera House: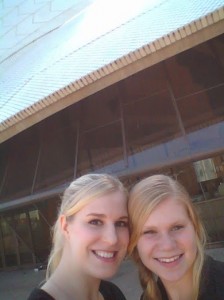 And one more because I can't resist: Me and the Opera House from a ferry we took to get around the harbor over to the aquarium.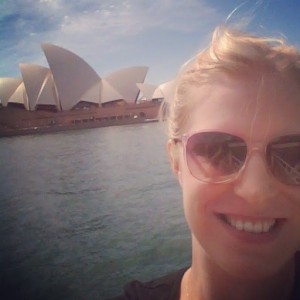 It was my impression that my sister wanted to walk across the Sydney Harbour Bridge, but when we actually started to do it we realized I'd been mistaken about this desire, and so we gave it up to go poke around elsewhere. I loved the neighborhood called The Rocks at the base of the bridge; they were having a chocolate festival at the time so we ate completely decadent chocolate truffles, and bought some touristy fridge magnets from street vendors. The streets were cobble-stoned, and so clean!
This is a picture of Luna Park as we passed it on the ferry. I would have loved to go but there just wasn't time: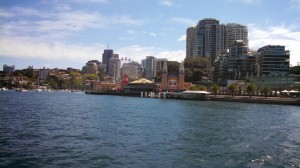 I grew up in Seattle, so I'm familiar with aquariums and their awesomeness. But this Shark Tunnel blew my mind: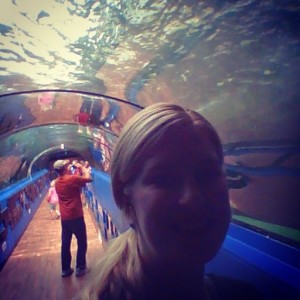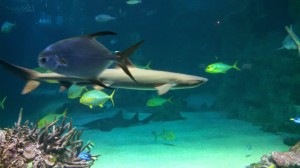 This is my sister, taking fancy pictures with her camera: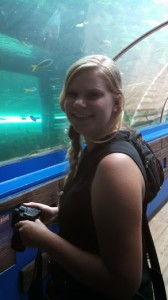 The manatee tunnel filled me with equal glee, and we got some hilarious pictures of them eating: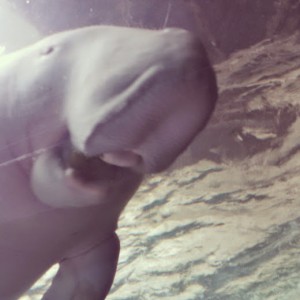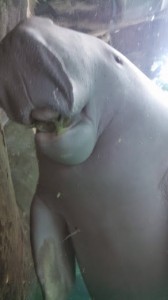 Then it was on to New Zealand, where we were fetched from the airport at 12:30AM.
A word about international flights: My sister and I departed Los Angeles for Sydney at what was 11:30PM our time. We stayed awake for a few hours on the plane, then took some sleeping pills and slept leaning on each other for about seven hours. Then the fantastic but exhausting day in Sydney, and by the time we arrived in NZ at 12:30AM local time we were ready to crash! Woke up the next morning at 8AM and were perfectly adjusted.
However, our feet SWELLED on the international fight! And didn't go down for THREE DAYS! It was so annoying.
Anyway, here are some yams our hostess cooked for us.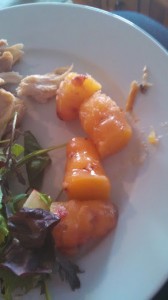 I take the time to show this to you because these yams originally looked like this (pic taken from google)!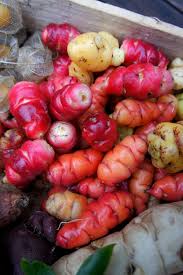 I saw them in the fridge and was like, 'what strange food is this??' so our hostess cooked them and they were very good. Crunchy and sweet.
One of my favorite experiences in NZ, actually, was when they took us to the local supermarket and we wandered through marveling at all the different foods. The vegetables were pretty much the same, but everything else was different, especially the candy! I wish I'd taken a picture for you. My sister and I each filled up a bag at the 'fill up your own bag' station, and spent several nights gorging ourselves on various strange candies. New Zealanders particularly like to cover sour/sweet gummy things with chocolate. It was pretty awesome.
Moving on, this was our hostess's dog, Cody, who was adorable and loved to take naps, particularly in someone's lap: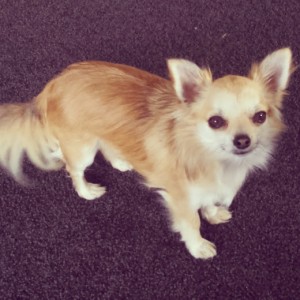 We went for a drive/hike in the hills above Christchurch, which was unforgettable.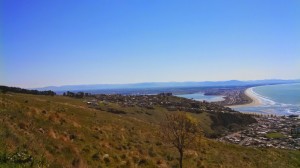 You may not know this about me, but I adore hills. No, I love them. No, I'm IN LOVE WITH THEM! Just look at this face of joy after I climbed halfway up a particularly steep hill and lay down because I must have died and gone to heaven: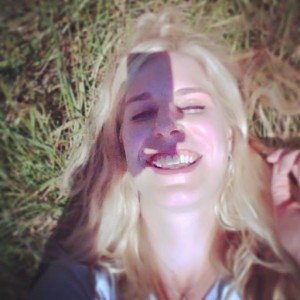 Here's another selfie, because why not?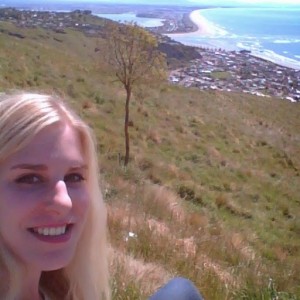 A view from where I was sitting, with my sister and companions below: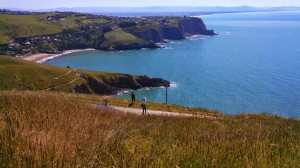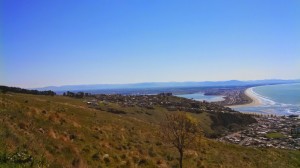 Seriously, when I die I hope I go to a heaven that has grassy hills. That would be perfect.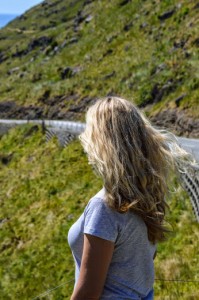 And because it was New Zealand, naturally there were lots of sheep around: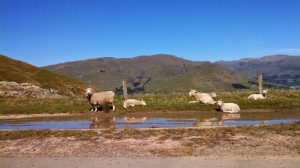 We tried without success to pet them. There's video of it, but Facebook won't let me download it, so I'm sorry, but I guess you'll never see a video of me chasing sheep in ballet flats down a rocky hill. You'll just have to imagine it.
Then, on the other side of the hills, was a harbor I've forgotten the name of, but check out this teal water! And the lupins in bloom! As we enter autumn here in Alabama, New Zealand was warming up for a gorgeous spring.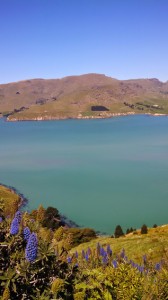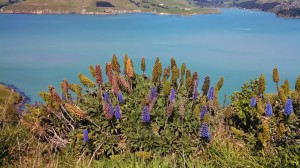 On another day we visited the Botanic Gardens, which put our Botanic Gardens here in Huntsville to shame. I won't bore you with all the plant pictures, but picture bridges, and pools filled with ducklings, and grass carpeted with little daisies, and everything blooming and sunshine everywhere.
There was also a stream where you could take gondola tours.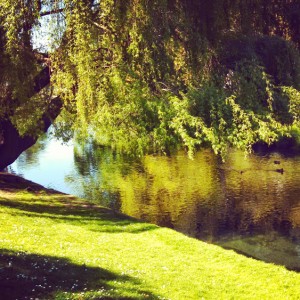 Best of all, entrance to the gardens is FREE! What?? Check out this cool fairy bower I found: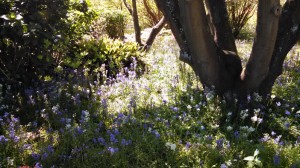 I loved being here because it was almost like stepping into the castle gardens in The Cobworld, particularly in regards to all the giant trees with low hanging branches everywhere: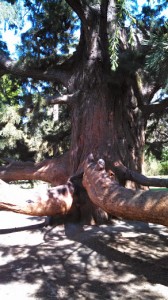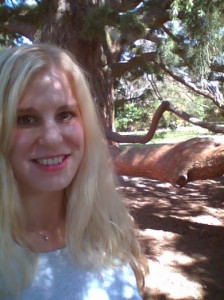 And I smelled wild eucalyptus for the first time! Sensory overload!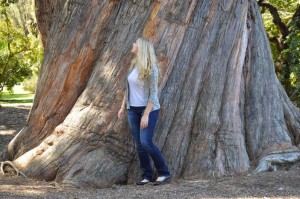 On a similar tree my sister took this excellent shot of me, which became my new profile photo (after I photoshopped out some of the hair frizz, of course):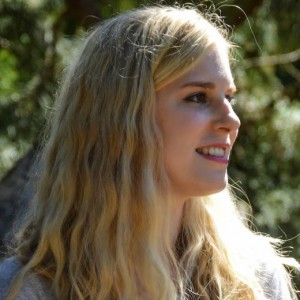 We also went out to a horse competition where I snapped this action shot: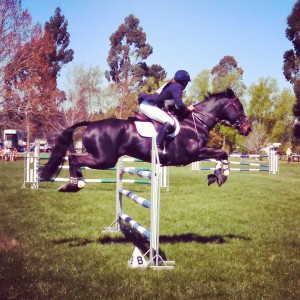 I tease my sisters that God told us to be writers but they misheard and became riders instead. Seriously, I don't get it.
One day they dropped me off in the local town while they did horse stuff, and I walked around shopping and eating burgers by myself. I found this pasted to a wall, too. It pleased me.
On our last day we drove two hours to Kaikoura, and I can't even tell you how beautiful of a drive it was. I grew up taking roadtrips through Washington State into Montana, and I thought that was as pretty as the world could get, but I was wrong: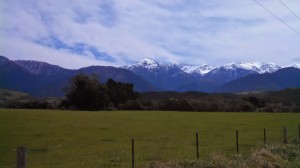 I took so many pictures of the amazing hills, but these two are my favorite.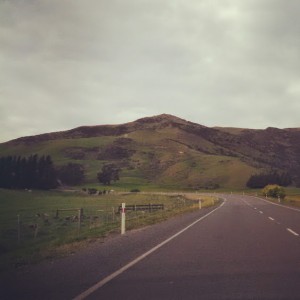 The little town of Kaikoura is known for the seals which migrate to visit it: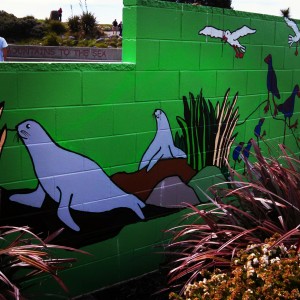 Apparently there's a period where baby seals travel up a freshwater stream to this waterfall and gambol in the waters, even allowing tourists to pet them: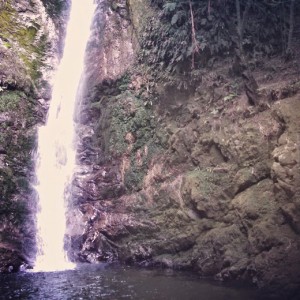 Sadly that season had just passed by the time we got there, so no baby seals for us. Except the ones we found at the beach!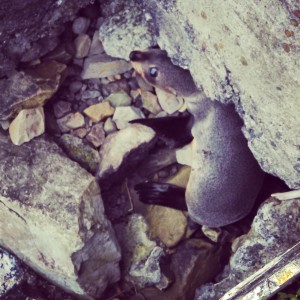 Above is a baby seal, and below is a pregnant mama seal napping: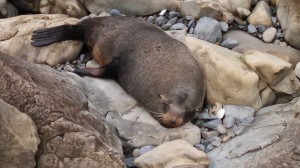 They looked cute, but everything smelled like rotting seaweed, so.
Here's more teal ocean water!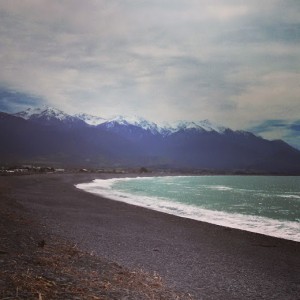 We capped off our visit to Kaikoura with a cave tour! Here's my deal with caves:
When I was around ten years old my family was vacationing on Montana with friends, and out on a trail we came upon a cave high up on a hill. There were signs warning us not to climb up to the cave and also warned us of falling rock. I decided I absolutely must explore this cave, or die of heartbreak. My parents felt differently.
I pouted quite hard, I'm afraid. I wanted it SO BAD and the adults were full of STUPID REASONS why I couldn't go, like SAFETY and WE DON'T HAVE FLASHLIGHTS! And one of the women we were with came over to me as I sat and pouted on a rock, and said I would have my whole life to explore caves, and when I was older I could go into as many of them as I want.
Well since that day, any time there's a chance of going into a cave, I take it. I'm lucky that Cathedral Caverns (google it, they're extraordinary!) is about 45 minutes away from me here in Alabama, and I've been twice, as well as stopping at Raccoon Caverns one time on my way back from Chattanooga. That's only 3 cave times, but each trip looms large in my mind because of the significance.
Not to mention, there's something about the rock in the caves around here that makes you feel like the caves are alive! You can feel something in there. It's not really a presence per se, it's more like… the rocks have energy in them, energy that absorbs all your negativity so you're just left with this feeling of peace. You can just sense it.
Anyway, despite this cave outside of Kaikoura being a limestone cave, it had absolutely no life inside. It 'felt' very dead, which is a shame, because it was a neat little cave. Here's our hostess and my sister inside: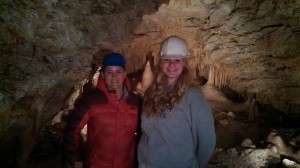 Lastly, we went to a hot springs park where the water running through the park comes up naturally heated from the ground. Our hostess pretended she was a seal and flopped all over these rocks (our running joke this trip was, "I do what I want!" like that famous scene with Cartman from South Park), and a lifeguard blew his whistle at her. We also went down a water slide without realizing we didn't have the right bracelets. Oh well. We do what we want!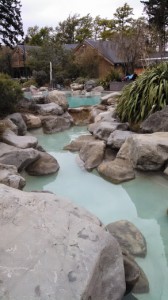 Then we raced home for a dinner at a Middle Eastern restaurant before I left at 4AM the next day. The return flight across the ocean (13 hours) was very different from the first flight. I didn't have my sister to lean on and sleep, plus I was out of sleeping pills, so I snatched a couple hours here and there but it was pretty miserable. Still… worth it!
A 4-hour layover in Brisbane and a 6-hour Layover in Los Angeles wore me out. LA had the worst customs of the ones I experienced; everyone was visibly grumpy and vocally expressive in how much they hated their job. And it was super dirty and outdated compared to the airports in Australia and NZ. Way to represent, LA!
I flew into Atlanta then had a 4-hour drive to get back home which I was very concerned about. Kat Zhang graciously offered to let me stay the night at her house, but I'd told work I'd be back the following day, and even though I know they'd let me slide I was dying to see Chris and my dog again, so I made a run for it. Taco Bell and the new Lana del Rey album helped.
Touristy stuff aside, our hostess and I had many long conversations about humanity and spirituality while I was there. I hope to share some thoughts from these conversations with you in the coming months. I've felt that in some ways this blog is sterile and impersonal lately. It seems to just be an accounting of stuff I've done/am working on, and I want to focus on sharing more of myself here. Watch out for some personal essays to appear in your inbox :-)
…I do what I want!
<3, Savannah