Recently I got the opportunity to live vicariously through my friend Kat at her first book signing!
I had a teensy part in the development of WHAT'S LEFT OF ME, and my friendship with Kat gave me a front-row view to the publishing and debut process. Watching her go through this journey and being present for a few significant moments in her writing career definitely revealed to me the reality behind book deals and debuts.
You see articles every now and then talking about it, but until I 'experienced' it for myself I never believed them: The debut is not life-changing. It is not a permanent fulfillment of your dreams. It is not a miraculous, ecstasy-filled moment where you attain nirvana and then magically graduate into an exclusive club of authors who always feel confident and talented.
The book deal, the debut, the signing… none of it makes your life or writing any easier.
I knew this stuff logically, but feeling and believing it was a different story. I counted down the days to WLOM's debut (last Tuesday). I made a blog post, I saw the brief explosion of congratulations and announcements. Some pictures started showing up of Kat's book in stores. But then it was over.
Amazon rankings don't jump immediately (though they do increase steadily). When you think about it, everyone who was going to pre-order has already pre-ordered. Sales go up, of course, but it might be weeks, months, years before you truly know if your book 'succeeded' or not.
Meanwhile, during the countdown to release, I've interacted with Kat every day as she works on Book 2, returns to college, and studies. WLOM was going to debut in a week, OHMYGOOOOOOD, but Kat was also deep in the trenches of edits for Book 2.
Life. Went. On.
Deadlines had to be met. Class had to be attended. Groceries had to be bought. The debut didn't lift one worry from Kat's mind, or give her even a minute's extra rest.
As for the signing, we arrived at the Barnes & Noble early. They had a table set up for her in the cafeteria, surrounded by people on their laptops with headphones in.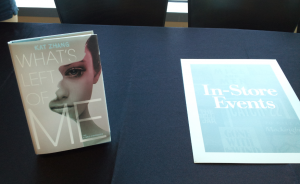 Kat had a beautiful cake made with a print-out of her book's cover, but the B&N didn't have plates for us, so I went to the Rite Aid across the streets and bought some. An Assistant Manager brought over a bag of plastic forks. We tested the pens to make sure they worked. Then we waited.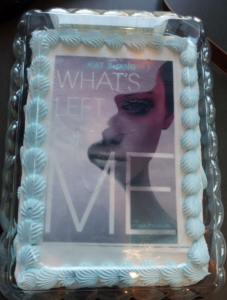 Biljana 'Billy' Likic (member of Pub Crawl who flew down from Canada to be at the signing) and I sat at a table adjacent to Kat's; the 'VIP' table, as we called it, but let's face it… we were all college-aged kids in jeans and jean-shorts and T-shirts, cutting our own cake and taking our own pictures.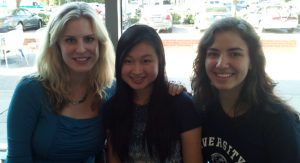 2:00 hit and Kat's readers started pouring in. Kat was alive with smiles and energy, and she looked so beautiful. For a magical hour and a half she greeted people, some of whom she knew, and some she didn't. She wrote notes to them, they signed her guest book, then Billy and I ushered them into taking a piece of cake, gradually cutting up Kat's beautiful cover.
At 3:30 the tide had ebbed, so we packed up, washed the frosting from our hands, thanked the Assistant Manager for the forks, and gave her the spare cake to give to the B&N employees in the break room. We went back to Kat's dorm, exhausted from the event. It was just an hour and a half, but so tense! We were actually watching Kat at her first signing. She was actually making out books to people who were so excited to read what she'd written. My friend had made it.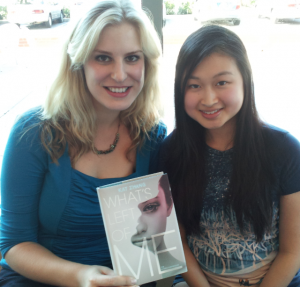 Then she rested, Billy worked on homework, and I tinkered with the ACORAS revision. And that's when it hit me.
What all those published writers said was true: The publicity, the events, even the touring when it happens – none of it changes your working life. You still have to sit down at the computer and get out the words.
Driving the 2 hours back this is all I thought of: Writing itself must truly be your passion, because you won't get your fulfillment from the promotional events. They're too fleeting. They're too mired in the normalcy of our own lives. When we were at the signing, we weren't glamorous or fabulous. We were just ourselves. Nervous no one would come. Thrilled they did. Stomachaches from too much sugar.
The experience has really changed my outlook on my career. Before I've wanted to be published so bad it hits me like a physical pain. It's a combination of envy and desire, a need to prove myself, a need to join everyone who seems to be moving on without me. But once it comes – and it will come – it really won't change anything, will it?
I will be in this house, in this room, at this desk, with this laptop. I will be scribbling in these same notebooks and dreaming these same dreams at night. All the lines of readers in the world won't affect the characters in my head and my relationship with them. J. K. Rowling herself has to shut out the adoring fans and get some actual work done.
Writing is solitary work. It's private. It's a personal art.
I'm so grateful Kat's graciousness allowed me to experience and understand this before it was my turn. I hope it gives me the zen to navigate my publishing journey while keeping my sanity and composure. I'll try to keep in mind that The Big Day is just another day. A day with cake in it, to be sure, but still just another day that you have to get the words down.
Because that's all there really is.