A lot has happened since we last spoke.
I've written another book. :O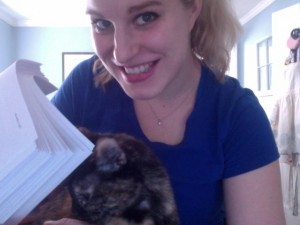 I know, it's kind of a surprise to me, too. I've never written a novel so quickly, or using this method, and so I'm ecstatic to share the recap of the project:
(You may remember my other Deconstruction posts; I like to recap what inspired a project and what the process was like to complete it.)
So I haven't really mentioned it much on here, but the book is called The Cobworld. Here's the pitch:
THE COBWORLD is a YA Fantasy following newly-betrothed Princess Bronwen as she struggles to save her childhood friend Prince Rylan from magical entrapment after he returns, mute and terrified, from a mysterious 7-year disappearance. Following him into the magical Cobworld, Bronwen discovers the truth about Rylan's curse, the dangerous royal Wishing Well, and ultimately herself.
It was inspired by a combination of things, primarily this song, and an excellent indie horror movie (available on Netflix Instant!) called Absentia. It's about a man who disappears and his wife's struggle to move on and cope with the guilt of having to declare him 'dead in absentia'. Shortly before she's allowed to legally file the paperwork her husband returns, and that's when things get super creepy and weird. The film is phenomenal and I highly recommend it.
So I saw this movie, and that feeling of desperation, guilt, and grief stayed with me. It also reminded me of another story, The Snow Queen, as well as the fabulous novel Entwined, by Heather Dixon, and even a little bit of Coraline, and the fairytale East O' the Sun West O' the Moon (which was one of my favorites as a child, particularly its incarnation in the film The Polar Bear King, which is wonderfully campy). An idea began to form.
On 8/10/12 it officially sparked (I have the tweet to prove it), and over the next few months I wrote a prologue (which got thrown out), and a scene that sunk its hooks in me and wouldn't let go. The idea was simple, at first: a princess, a missing prince, and a terrible secret.
In July 2013 my BFF came to visit and we did some intense brainstorming sessions to flesh out the plot. All these things started to emerge from the swamp of my subconscious, delighting and thrilling us:
A Wishing Well with a dark past. An underground kingdom. A spider Queen. A glowing forest. Shape-shifting, jealousy, former gods, rules of inheritance, a lost crown…
In September 2013 I took time off work to babysit one of my younger sisters and began to officially work on the novel. Those days were absolutely lovely… I would take her to the stables in the mornings and sit there with my feet on an outdoor table, scribbling the first 20k of the book.
Then Kat Zhang and I launched the NaNoWarmUp Project and I turned my focus over to Nameless. Since Nameless is so difficult to work on, any time I'm inspired to pick it back up again it gets first priority. After a wonderful October working on Nameless and a mediocre November, I stalled out in December and didn't get much done. My focus began to turn back to The Cobworld.
In January 2014 I realized that I'd spent 2013 writing 2 half projects, and while I was proud of the progress I'd made, I hadn't actually produced a completed novel. That needed to change, pronto. So I put Nameless aside, picked up the detailed Synopsis I'd worked on for The Cobworld, and set out to finish it as fast as I possibly could.
I started writing on 1/12/14 and finished the very first draft on 3/2/14. 50 days, and just over 40k words added to what I'd started with. It's the first novel completed by employing the Shitty First Draft method.
What is the Shitty First Draft method? It means writing the book without editing. Dedicating to just getting the bones of the story laid down, and once you at least have the first draft you can go back in and edit to your heart's content.
It seems simple, right? But I've never been a Shitty First Drafter. I prefer the slow burn… moving forward a little and editing so I'm thrilled with the words and they 'feel' right, then moving on. But naturally I don't get much accomplished this way. It makes for a pretty first draft, but a dreadfully slow process.
So despite my discomfort, I gave in to Team Shitty First Draft! I even titled the document Exploratory draft (as Laini Taylor refers to it), to remind myself that I can do ANYTHING I want with the first draft and it doesn't matter because we're finally in the house of the novel, just looking around and exploring the different rooms.
I also reminded myself of something I learned from Chuck Wendig: All a first draft has to do is exist.
All a first draft has to do is exist.
This draft I just finished? It's a huge milestone, but the novel is nowhere near 'ready' to be read, even by my CPs. It's missing a full scene, a tiny snippet to connect two chapters, and a ton of descriptions and the things that make scenes truly come alive. But the bones are there. I have the entire plot, and everyone's motivations, albeit in melodramatic monologues that I can now hack up and figure out how to deliver more eloquently.
They say you never learn how to write novels, you just learn how to write the novel you're working on right now. But I know that all the effort I put into ACORAS and all the lessons I learned there paid off for The Cobworld. The more I write the better I learn how to plan, and the more confidence I get to explore methods and ideas I haven't tried before.
I'd love to tell you more about The Cobworld and even share a piece of it, but I'm also experimenting with the concept of being sort of closed off about my projects (yes, I'm aware I'm saying this during the recap), and so I'll just leave you with its Pinterest board.
My plan is to let it rest for a week, then implement yet another new method of printing off the story and editing it via pen before tackling on-screen rewrites. In the meantime, I'm going to do a lot of guilt-free reading and replenish the well (har har), and maybe dream of the next project I'll work on.
Or, you know, go back to Nameless. The usual. :-)
All my love,
<3 Savannah