Saturday was the happiest day of my life… well, so far anyway :-) These are my top 3 moments:
First, Chris graduated!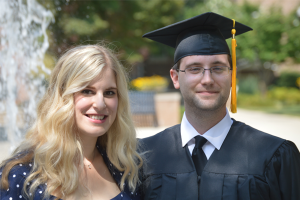 After six years of hard work and sacrifice… the late nights, the family events skipped, the constant pressure and stress, the leisure time clouded by the need to study, the daily commute, not getting home until 10PM… after all that my favorite person in the world finally graduated with his Bachelor's Degree!
We were in the very back of the room. The graduates entered and we could see Chris looking around for us, but it wasn't until he got to his seat that he looked back, and me being so tall of course I waved and he saw us, and his face lit up in this gleeful grin, and that was awesome, but hearing his name get called was even better. I was squirming like a puppy, and his sister and I jumped up and down and shrieked like maniacs.
Most of his entire extended family was able to come down for Alabama and be with us. The ceremony was short and sweet, and we all took bunches of pictures afterwards. Even though the singer forgot the words to the national anthem, and the announcer of names said all of them like he was announcing for professional wrestling (I'm not kidding. It was kind of amazing), it was just a perfect graduation, a perfect morning.
And then we got to party!
We had over thirty of our nearest and dearest out to Chris's sister's house for a pool party in celebration of Chris's graduation. I wore a bikini for the first time and played pool volleyball, which is actually what I had just been doing when Chris gathered everyone together, presumably to make a little speech, and then cut the cake.
Chris talked for a minute about how glad he was everyone could be here, and how excited he was to graduate, then asked me to join him up in front of everyone. He said some very endearing things about how I've supported him through this process, and then…
Favorite moment #2:
AHHHHHHH!!!! WE'RE ENGAGED!!!!!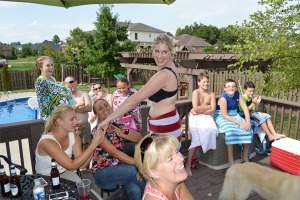 We had discussed getting engaged after he graduated, and had actually specifically discussed NOT doing it at the party (at my insistence) because that day was supposed to be all about Chris… but secretly I was hoping for it!
It was so wonderful to get to celebrate with all the central people to our lives (minus some family and friends who unfortunately due to distance or prior obligations could not be with us that day).
And my third favorite moment of the day…
Chris and I reclined on adirondacks by the glowing pool during a glorious pink sunset. We hadn't slept well the night before, and the day had been exhilarating and exhausting. I was slipping in and out of consciousness. The gazebo was lit up with string lights, and a little fire pit was going, with the last of the party guests sitting around it.
It was truly just a great, great day.
<3, Savannah