"You have a very good height."
This was said to me by a young Indian man running the register at a gas station somewhere in Georgia. I was on a roadtrip with Susan Dennard and Kat Zhang on our way back home from Florida where we'd been on a writer's retreat for the last 5 days along with Biljana Likic and Sarah Maas.
This was the second time someone had commented on my height, just on this trip alone. The first time it happened was in a gas station in Orlando, FL. The cashier was female, and asked me outright how tall I was.
"I wish you had said that while my friends were around," I told her. "I get asked that all the time but I don't think they really believe me."
And it's true. Not a week goes by where a stranger doesn't take it upon themselves to initiate a discussion with me about my body. I have two potential reactions to these questions.
The first is a feeling of genuine connection. As with the girl in the gas station, who went on to tell me about her brothers and father who were above the 6′ line, I felt interest and comradeship from her, and didn't have a problem talking about my height and the various issues associated with it.
But I can have another reaction. One where I feel shakingly angry, and disturbed. This is caused when I feel people are treating me like a curiosity, a sideshow, a freak. When people look me up and down and say, "Wow!" like I have a third arm or something, or worse, when they say those dreaded three words: "You're really tall!" How am I supposed to respond to that? "Gee, I hadn't noticed" ?
This is the body I live in. I'm going about my day, normally, involved in my own thoughts, trying to fly under the radar, when suddenly it all comes crashing down with a simple "How tall are you?"
Suddenly I'm not just a regular person. I'm an object. A curiosity. My face flushes. I see multiple eyes turn in our direction.
"6'2," I say tersely, but they don't pick up on my discomfort.
"Wow," is typically the reaction I get. Nothing more. Just, "Wow." Their curiosity satisfied, we all go back to standing around awkwardly waiting for the cashier to hand me my receipt so I can leave, feeling like the 50-foot woman stomping through the grocery store.
Let's be honest: 6'2 is not really all that tall. For guys. But somehow, when people see a 6'2 female they just lose their shit. Case in point:
My boyfriend Chris (who's 6'3) and I are standing at the counter of a gas station/Dairy Queen (lol what is it with me and gas stations?), buying some sodas and joking like we usually do, when a voice interrupts us from behind:
"How tall are you?"
I don't turn around. I know what's coming. The speaker is male, and his tone is that familiar tone I hate. My face flushes. My mouth hardens into a line. Because I'm not going to respond, Chris turns, and asks the guy, "Umm… which one of us?"
No answer. I assume the guy gestures because then Chris says, "Umm… she's 6'2."
I do finally turn, because I feel bad not acknowledging this conversation is taking place, just in time to see him say, "Wow. That's really tall."
There's nothing to say. I get our receipt from the cashier and we leave. I still don't say anything as we get into the car.
"Wow," Chris says, slamming the door to the truck. "So, like… does that happen often?"
"Yeah… Just curious, does anyone ever ask you how tall you are?"
"Never," Chris says.
Amazing. Chris is taller than me by an inch, but no one ever asks him how tall he is. Because he's male. It's okay for him to be that tall. But as a 6'2 female I'm an oddity.
Here's the thing about being tall: It's one of those physical characteristics that is socially acceptable to talk about, because it's seen as a positive. People tell me all the time they wish they were a bit taller, just like people talk all the time about wanting to be skinnier. But what would happen if I had a different defining physical characteristic? What if I weighed 400 pounds? Would it be okay for someone to come up to me and say, "Wow, you're really fat" ? Is it okay to say to extremely short people, 'Wow, you're really short" ? What about the really ugly? People born without arms, or fingers?
Is it okay to just start talking to a stranger about their body?
I don't think it is. I don't want to be a whiner, and there's totally worse things that could happen other than people constantly asking how tall you are, but I wish people would be more considerate. I wish that people didn't think it was okay to start talking to me about my body as if it's public property. As if I'm a creature to be marveled at, something to say to your friends, "Hey guess what I sighted today? A 6'2 female!"
Also it would be nice if girls stopped complaining about being 'too tall' at 5'10 :-) Having been that height, I would honestly say that I think 5'11 is the 'perfect' height. You're tall, but not too tall, and you can probably still find shoes in your size.
So social complaints out of the way, let's talk about the other aspects of being tall:
~~~
Shopping. Where do you shop for clothes? Everywhere, right? You could pick up a new pair of jeans at Target if you like. But when you're 6'2 your choices get limited in terms of what you can wear, and where you can find clothes. I moved to wearing a lot of skirts and dresses because they're easier to fit than pants. I can't go to the GAP and walk out with a new pair of jeans; I have to try on pairs that don't fit length-wise to get a good feel on the waist, then special order them in a longer size.
And shoes. Oh man do I have a lot to say about shoes. First of all, women complaining about having shoe size 8, 9, or 10 seriously need to get over it and realize how good they have it. Do you know what my shoe size was in grade 8? 15! Freaking 15! Thankfully they seem to have shrunk and I can now squeeze a 13, though 14 is more comfortable.
My feet were at one time so big my mom and I resorted to searching for shoes for transvestites just to find sizes large enough. Do you know how that feels to a 15-year-old girl just trying to find some nice shoes to wear to her Homecoming Dance (for which she does not have a date because she's the tallest person in her school)?
Thankfully Payless shoes carries up to a size 13, which is great for sandals and stuff, but for work shoes I order through Nordstrom's. They fit great, but a pair of nice shoes can cost over $100. Being tall is not for those on a limited budget.
I've tried Zappos but I just don't like the selection. Chris urged me to get on Amazon, which does have the bigger sizes, but they also come with a 4-inch heel. If you think I get attention being 6'2, imagine what it would be like at 6'6. No thank you.
Dating. Ah yes, this is the big one. I was my full adult height at 16, a sophomore in high school. In our culture, dating and boy-girl relationships are so important. I agonized all through high school because I didn't have a boyfriend. The only people who seemed to be interested in me were creepy older men. I wasn't interested in dating anyone shorter than me, something my shorter friends couldn't seem to understand. I got so much attention in public in the first place, why would I want to seem like even more of a freak by being part of a physically mis-matched couple? I've met women who could do it, and honestly, more power to them, but I couldn't. Too self-conscious or vain or something, I guess.
My height led to severe self-esteem issues. I thought I would never find anyone acceptably tall enough who would love me (Let's be honest, I'm not a weirdo [I hope] but I don't exactly have a mainstream personality. I might be a little difficult to love). I honestly expected to spend adulthood alone in an apartment somewhere, writing because that was my only love. I thought my height made me unloveable.
This was not helped by a few near-dating disasters as a teen. There was one guy who told my sister in a text, "When God was handing out body parts, Savannah must have been in the back of the line because you got all the good ones."
I was horrified. My sister was one of those stick-skinny girls and I was very curvy. And 6'2. In that moment I felt like a monster.
There was also the time I was on my way out of the mall and I passed two young girls. Still five feet in front of me, one whispered to the other (loudly): "She's really tall."
As if I couldn't hear. It made me so mad in that instant I snapped, "I'm tall, not deaf," as I passed them. And yes, I did feel bad about it later :-(
Thankfully everything changed when I met Chris. Usually when I meet people taller than me I get intimidated. They just feel so large. But Chris felt normal. In a world where I was the odd one out, he felt life-sized to me. And thankfully he wasn't one of those tall guys who fetishize tiny women. Chris made me feel normal and beautiful. He made me realize there really was someone out there for me, and being scared that I'd be alone forever because of my height was ridiculous.
Here's the truth, for any tall young women out there listening: High school is not your time. College is where you'll meet lots of tall guys, some of whom will even be interested in dating you. Just hold out a few more years.
Sports. I don't get this one as often anymore, but when I was younger the most common question asked was, "Do you play Basketball?" or "Do you play volleyball?" These questions infuriated me.
First of all, I did play basketball. In seventh grade. And I was really good at it, too. But my heart wasn't in it, not like writing. Plus, playing was incredibly painful. I had to go to the chiropractor twice a week if not more, and at times my lower back pain was so bad I couldn't walk. I really wanted a scholarship for college but knew sports just weren't for me, so after seventh grade I never joined a team again.
But because I'm tall I obviously played sports, right? Some people got aggressive with me, demanding explanations when I said I didn't, or telling me I really should, even after I explained that it physically hurt me, and plus I was seriously not into it. Did this contribute to my strong dislike of sports in schools? Probably so.
But you know what was really insulting? Walking an air conditioning repair guy through my company the other week to show him a malfunctioning unit, and having him ask me, "So did you play football in high school?"
I'm large, so I'm manly? Excuse me? I said no and walked off.
Normal Life. Honestly, unless someone is confronting me in public about it, I forget how tall I am. This is just my body. This is just my life. I do sometimes feel like I'm observing life instead of participating it, because I'm looking at everything from a distance, but when I'm at home with Chris, he's life-sized to me, and we do what we do and are regular people. But when I see myself in pictures with my friends I'm always surprised at the height difference.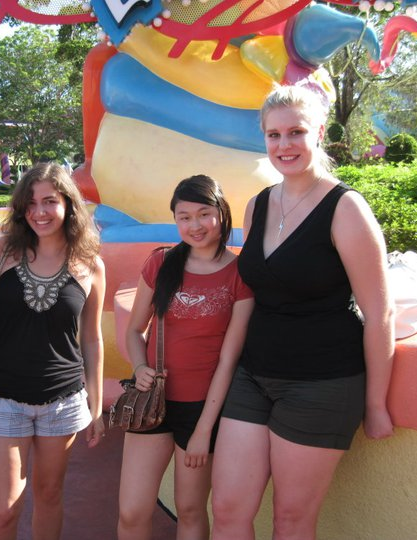 This is me with Biljana and Kat at Universal Studios.
And it's not just height, because I've seen tall women who look like they've been stretched upward. I'm naturally just a very big person.
Here's the way I usually describe it: You know when you have a picture in Microsoft Word, and you can stretch the picture out? I'm like a regular picture, except you take one of the buttons at the corner and make me bigger all around.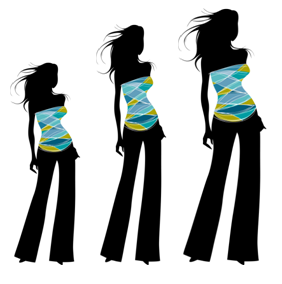 The person on the left is a normal woman. Let's call her 5'5. The person in the middle is a typical taller woman I see on a regular basis, let's call her 5'10. She's the stretched version of the short woman. And the person on the far right is me. The smaller woman with every proportion increased, not just stretched.
Chris jokes that I come from 'good stock.' My father's family is very tall, and my mother's is all Swedish, so I'm just naturally larger. Which really pisses me off when I look at a BMI chart, because even at my skinniest I was considered borderline obese, which is just ridiculous.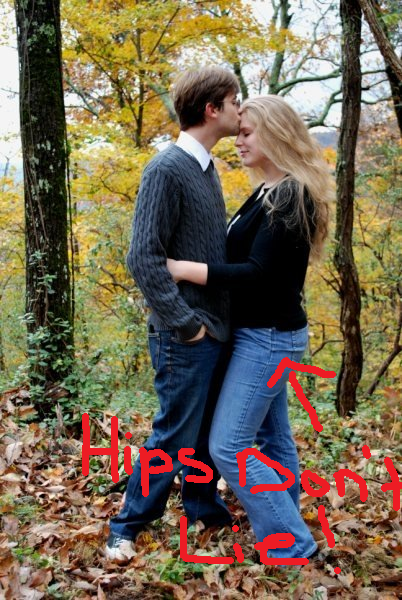 It's Not All Bad. Really, I don't mean to be a whiner, I really don't. I just wanted to write this to explain how being really tall feels and how I think about it. There are definitely some good parts.
For one, I can reach everything that would ever need to be reached. I can see over book stacks in bookstores. If I'm in a group of friends I'm the flag that can always be rallied at.
Tall people statistically make more money and are considered smarter. People usually think I'm older than I really am, which I appreciate because they take me seriously. Growing up, not being taken seriously was my worst fear, so this is one aspect of my height I really enjoy.
I was never picked in in school. To this day I feel more comfortable in some situations because I know my height deters people from starting stuff with me. And if I ever need to, just standing really close to someone while I'm talking to them acts as a very deep, biological intimidation method.
I can also hide weight gain better than a shorter person. 10 pounds on me can barely be seen, but on someone 5'5 that can be devastating. It also makes my weight loss goals a lot larger, lol.
Occasionally when people stop to talk about my height, it's to ask if I'm a model. When I was skinnier strangers would frequently tell me that I was beautiful (thirty pounds later, I still maintain that I'm attractive, just not to the point where people feel obligated to tell me about it anymore ;-). You can't imagine what a relief that was to grow up and enter the adult world and find out that this physical characteristic I hated as a teen was actually something to be prized.
Because let's face it: If you're going to remember anyone in a crowd, it's going to be me. People recognize me. Remember that story about the guy who asked Chris how tall I was in the gas station? Six months later we went back there and when I handed the cashier my ID she told me not to worry about it, that she remembered me. I did not recall this woman at all, but she remembered that six months ago I was legally old enough to be buying what I was buying.
This happens frequently across my town. One time I went into Target to pick up some stuff for dinner, and as I was walking out my cashier said, "You always look so nice when you come in here." Again, I did not remember this girl at all.
So while sometimes I do feel like I can never just anonymously be in a crowd, I also appreciate the fact that I have mini-celebrity status. When people remember you they treat you better. You form relationships with them. So does my height give me an advantage in these situations? Definitely yes.
~~~
Being really tall sucked when I was younger. There are still some sucky parts. But those experiences made me who I am, and define me today. So would I give it up? Definitely not. I'm happy with who I am and pretty much happy with my body, so what more could I really ask for?
"You know, no one's ever described it like that," I said to the young Indian man working the cash register in Georgia. I could tell he was in the group of people that wanted to connect with me, not just treat me like a circus attraction. "I'm 6'2."
"Well, it is a very good height," he said again, and handed me my receipt.
"A very good height," I repeated. "I like that. Thanks."
–