I had a very interesting writing experience with Nameless the other day that I'd like to both record and explore with this blog post.
Side note: Yes, Nameless!!! I've turned in edits on The Cobworld and launched immediately into continuing with the new draft on Nameless, which I'd last delved into this past July. This summer I added around 4k words, and I've added an additional 7.5k this month, so the total manuscript is now around 65k. Only 35k more to go (and hopefully less)!
Nameless is slowly dressing its bones with flesh. I could say that in a less gross way but I refuse to.

— Savannah J Foley (@savannahjfoley) January 27, 2016
A few nights ago I wrote a scene I've been looking forward to for a long time. It's an action sequence involving a lot of people in a large area, and a pivotal moment in the book. I'd been picturing it, and telling myself the story of how it would feel to read, but hadn't given much thought to the actual words. (In hindsight that's a warning from my subconscious: if I'm thinking in pictures instead of words, either the scene isn't ready, or I need to do some hard work to figure out the facts.)
And so, I wrote a thousand words describing what happened. Lots of movement, large groups of people, very little dialogue. It was more describing a flow of movement and crowd reactions versus what was going on with individual characters. I meant it to be sweeping, to have momentum.
It sucked.
I did a thing I've done lots of times over the years: I rush past details in an effort to trick the reader. I use long sentences, and gloss over descriptions. It feels like performing on a burning stage, dancing and singing as fast and as loud as I can to distract the audience from the catastrophe that's really going on.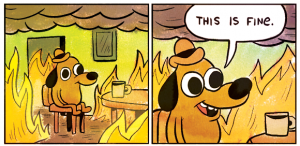 The writing isn't technically bad. The sentences are formed correctly. Nothing is purple or over-the-top. But if I had to re-read it I would cringe because I know it's the equivalent of being super loud and outgoing at a party because you're afraid no one will like you.
And for years, I'd let this bad writing stay. It technically accomplishes its purpose, and it allows me to move on and finish the book, but eventually some brilliant person will come along behind me and say, "This isn't working." Then I'll have to go figure out what it is I hate about this scene so much and why I'm struggling so hard.
And I finally figured out the universal truth of why.
One of the pieces of writing advice I try to follow is: When in doubt, go slower, not faster. This has helped snap me out of the above scenario in the past, but only sometimes. I recognized that I felt better about the writing when I slowed down and examined the character's thoughts and actions, but it wasn't quite the universal truth I needed.
Then recently I read The Anatomy of Curiosity by Maggie Stiefvater, Tessa Gratton, and Brenna Yovanoff. The book contains one short story by each author, with notes detailing their writing process and explanations for the choices they made in the writing process.
Something Maggie Stiefvater (whom I adore) said really stuck with me. It's something to the effect of, "If I could be the fairy godmother to all new writers, I would whisper in their ears, 'Be specific!'"
It is specificity that makes good writing. Anyone can describe a person. A good writer will point out the specific things about them that make them interesting. Anyone can write a scene like I did, wide and detached and from 20,000 feet. It is the up-close, micro-view that compels.
This ties in with another lesson I learned over the course of editing The Cobworld: I don't have a problem with killing  my darlings. I have a problem with deleting bad or mediocre scenes because I'm afraid I can't replace them with something better.
Specificity and Courage: my two antidotes to that terrible, squicky feeling of trying really hard to disguise bad writing.
So when that revelation barreled into me at a thousand miles per hour, I realized how to fix my bad scene. It's not as simple as going slower and not faster. It's about showing the reader how significant that scene really is, by getting very specific with the emotions and actions of the characters living it
And the ridiculous part is, I didn't even consider how all this action was affecting my point of view character. I was so preoccupied with explaining the vast movement I didn't think about all the super exciting things I could say about how it felt. Because there are exciting things to say.
I can't wait to write them down.
—
Some housekeeping:
I've decided to save Fave Five posts for months when I have nothing new to report. If you see one it means I'm still writing, but don't have any exciting revelations or personal news to share. I mean, this was a big moment for me recently:
I just found cheese in my pants. The worst part is I don't think this is the first time. pic.twitter.com/n9seqSr8gK

— Savannah J Foley (@savannahjfoley) January 28, 2016
<3,
Savannah
(Psst: Here's a video of my gorgeous/hilarious Bella dog playing in the snow. Because I care about your happiness.)