I won't hold you in suspense — I'm working on Nameless again.
I officially finished edits on The Cobworld on 6/29, and immediately launched into reviewing the Nameless draft.
After around 2 years away from serious work on the draft, reading it again was a magical rediscovery of the story and characters. Little plot twists I forgot I put in, hints I'd begun weaving for conflict later on… Finally I feel awash in new energy and enthusiasm for the project. Gone is the dread and the panic and the obligation. Now I want to finish this story because it's so good you guys omg and I can't wait to share it with you.
When I made the update last November about my current feelings on Nameless, the responses I received publicly and privately were so supportive, and I appreciate everyone who reached out to say something. But I also had this revelation… Why am I so worked up about disappointing fans of the original story, when in reality you guys would account for only a very small percentage of all of Nameless's potential readers? (Not to mention how cool you guys are with the potential changes). I realized the world at large isn't going to be judging me; they're only ever going to see the finished draft.
And so I was able to let go of all my internal negativity, and this feeling like I had an obligation to hold on to parts of the story that had always been there. Re-approaching the story now, I have this fresh energy and motivation. It's so clear to me what must happen, and because of all the hard work I've put in on other books over the years, I know I have the skills to do it.
Obviously writing always seems easy during the planning stages, and I'll confess that endings remain my kryptonite, but I have around 50k-ish left before I have to fight that battle, and plenty of skirmishes to get my confidence up before then.
Here's to the next 50k!
In personal news…
Being married is exactly the same as not being married, except now I get to practice a new signature every time I sign a receipt. Honestly the most different thing about being married is how everyone else treats us as a more legitimate couple, which borders on offensive in some instances. I still have trouble referring to Chris as my husband and have called him boyfriend more times than you'd think, but he doesn't mind, because it's not a big deal. Anyway, we're deliriously happy and therefore there's not much more to say, so I'll stop.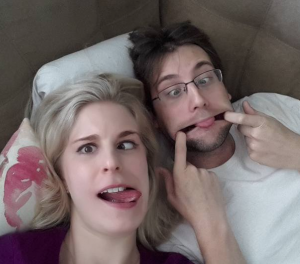 I have a new cat now, a small and feisty goofball of a cat, that appeared outside my office building one morning. She was obviously dropped off by some heartless soul, and had drying teats to suggest a recently weaned litter of kittens. Now she's all fixed up and running wild through the house, amusing us all with her antics. Kitten was a very different sort of cat; she never played and was immune to catnip, but Mia is a cat's cat. It's such a joy to watch her play with toys and even things that are decidedly not toys, such as my pen when I'm brainstorming: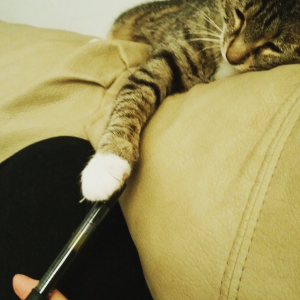 I knew the right cat would come along when I was ready, and Mia is undeniably the right cat. Get this — she had no fear of Bella when I brought her home the first time. What kind of cat isn't afraid of a big, wolf-looking dog that is very interested in smelling them immediately and up close? This crazy girl.
For all my American friends, have a safe and happy 4th of July!
<3,
Savannah
PS: I've migrated to using my official author FB page instead of my personal page, so please Like at will.
PPS: I've added a link to my instagram on the right, if you're interested in seeing more pet pictures from someone you kind of know on the internet.