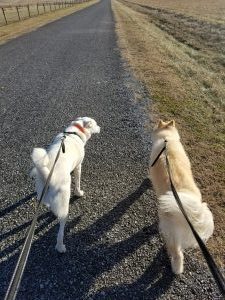 After a week of ice and snow (both wearying and exasperating in the winter-weather-adverse South) the temperature finally picked up and Saturday was in the 60's. The dogs and I took advantage and ventured out into the country.
We had a lovely time, but Bella is getting older, and she can't go as far as she used to. I dropped them back home, but I wasn't done yet.
I have been reading so many fascinating things, about spirituality and brains and the universe. I craved to go out into nature and try to feel that right-lobe magic. To give myself the gift of movement and outside and quiet thinking. But because I am also a creature of narrative and connection, I documented the journey, telling myself the story of my walk and planning to recount it here for you.