In a nutshell…
I am a former founding member of Pub[lishing] Crawl, a blog for young and new writers. I've been writing since I was 15, and focus on Young Adult stories with an element of fantasy.
In 2018 I started teaching myself Illustrator, and now I illustrate the webcomic Pickles and Pitch. You can check out my other art here on Instagram.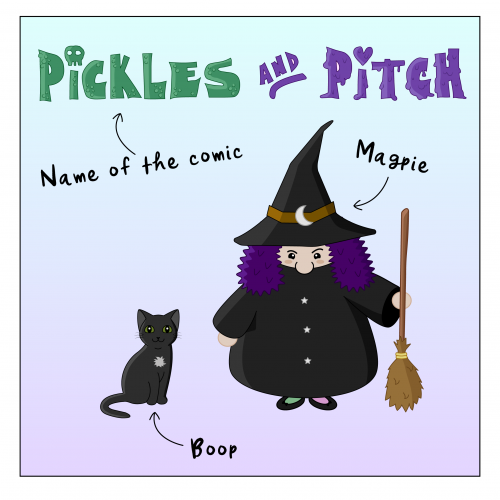 Fun Facts
In my day job I work in Human Resources. My job has been such a blessing in exposing me to many different people, and giving me the opportunity to show up as their advocate. Plus it's often hilarious and shocking — I can swap employee horror stories with the best of them!
I was born and raised on a small farm in Washington State, running wild in the woods, squelching through ponds, and playing with an eclectic mix of farm animals. When I was 16 my family relocated to Chicago, and a year later we moved to Huntsville, AL, which I'm now proud to call my home.
On the weekends I love hiking in the local national parks, or doing woodworking with my friend.
I'm on the autism spectrum, my Meyers-Briggs type indicator is INTJ, and my Enneagram is a 4.
I'm an introvert, but I'm not shy. I love public speaking!
I've been learning to read Tarot cards since 2013. I love researching magic but I'm not sure I believe in it.
At 6'2 and 3/8 I'm considered really tall!
Woman's World / Nameless
My first book was posted to FictionPress in 2005 under the title Woman's World, and gained a moderatefollowing. At 19 I signed with my first literary agent and tried to sell it, but the story got mired in rewrites and a failed attempt at a genre change. During that process the title was updated to Nameless, which I still think is the perfect fit. As I was growing up and changing, the story was changing, too. I'm now in my thirties, and still working on this book when it feels right.
For all you wonderful people that still reach out to me all these years later asking for an update, I still hope to bring Nameless to publication eventually. The first half is written, and the second half is outlined. Thank you for your patience with me as I've grown up and learned to tell this story in the way it deserves to be told. I can't wait to share it with you one day.