As announced in late September, this month I've been co-running NaNoWarmUp with Kat Zhang. The experience has been invigorating, and I'm pleased to say I've added more than 25k to Nameless!
Because I still get emails, comments, and sometimes FB messages from folks asking about Nameless, I added a comprehensive timeline to the Nameless page, so you can check that out if you're curious.
Below are my personal charts for NaNoWarmUp!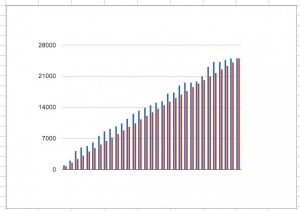 I learned something really valuable through the experience, which is causing me to skip NaNoWriMo this year: writing to a time limit, such as a sprint, makes me write crap instead of valuable stuff. The past few years I've used NaNoWriMo to work on Nameless, and it was always crap. This October the pressure was lighter, and now I have 25k more words, every one of which I can keep.
Kat asked me to join her in aiming for 35k in November instead of the full 50k of NaNoWriMo, but I want to take part of this month to edit through what I have, do some brainstorming, and continue to move forward. My goal is to be done with the first draft by the end of December.
In other news, I went as Joan Holloway for Halloween. My hairdresser wouldn't let me dye my hair red, so there's that, and my hair is so thick and glossy it just wouldn't stay put in a french twist, but other than that I have this outfit down. You guys may not know this about me, but… I'm kind of Christina Hendricks shaped.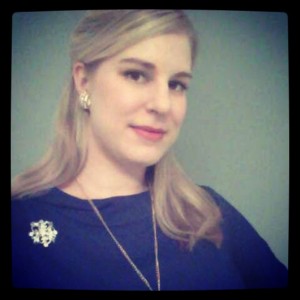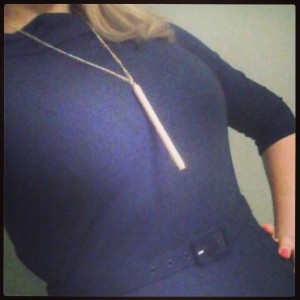 Earlier in the month I went to the Southern Festival of Books and got to see Kat Zhang again, albeit briefly. We attended a session about MG Fantasy, and I recognized one of the writers as the person who was the handler for Sharon Creech last year. You remember last year, when I accidentally waited for Sharon Creech to emerge from the bathroom, then awkwardly hovered for a good long while without actually getting the chance to introduce myself?
Yeahhh… So I wanted to go up and explain to this woman what had happened, except… I just sort of… ended up awkwardly hanging around YET AGAIN because she was setting up for her session and I didn't want to go on the stage to talk to her, and so eventually I just sat back down, clouded in a shame of my own social failure.
Can't wait to try again next year!
<3, Savannah
PS: I'm putting together a list of gifts for writers so you can flesh out your Christmas lists, so check back soon!