So many exciting things are happening, or about to happen–I want to tell you about them all at once! However, this will probably make more sense with a narrative:
In November I was diagnosed with depression.
(Don't worry, it gets better).
You may remember I mentioned feeling a few scary days of it in this post. Well, I'm sorry to say that the symptoms continued shortly thereafter, undulating in varying degrees through my life over the next few months.
I started seeing a counselor and confessed that I felt guilty to be grappling with this thing: guilty not to have it, but to have so little of it. I had the kind of depression that enabled me to get up in the morning, and be productive at work, and even write. I maintained my relationships, and showering, and I didn't cry. So it felt weird to claim ownership over the term because while it did take a toll on my mental outlook, I was able to stay productive and reasonably healthy. It's just that my heart was heavy and lacking in hope while I did it.
Nights were worse, because I wasn't distracted with work. When it was bad I felt like something curled up in my chest and died. I got impulsive–I wanted to do almost anything to  ease this bad, sick feeling inside. I indulged in a lot of binge-eating and wine drinking. When my symptoms were light, it was a sort of vague, restless discontent. A sense of doom. A feeling of hopelessness. A veil of pessimism.
Definitely something separate from my mood–a physical feeling on top of my mood. At my counselor's recommendation I got my vitamin levels checked, my iron levels, and my thyroid. All test results were normal, and there was very little to talk about in therapy, aside from some family drama that cycles in and out.
I was hoping that after finals ended in early December the cloud of depression would lift, but instead it got worse, indicating it wasn't exactly stress-related. I was kind of hoping it was, because that would make sense, and be somewhat fixable–I work full time, go to school full time, write, take care of the house, cook to eat healthy, and try to exercise (though I'm not very good at that lately). I also have relationships to maintain, with my family, and Chris, and our dogs (yes, dogs plural! more on that later).
Wouldn't it make sense if this was caused by stress? Wouldn't it be better if it was caused by stress, because I could cut back on the number of classes and make other modifications to get back to normal?
But it wasn't. As my therapist explained, this was just something my brain was doing right then. Which was disappointing and weird, because I've always been so naturally upbeat and positive. I felt like it was my fault, even though I was told it's not.
She recommended I go on anti-depressants, and wrote me a recommendation to take to my family doctor. I've never been on anti-depressants before. That was a big step, to me, one I wasn't sure I was ready to make, even though I longed for freedom from this alien negativity jockeying my brain. Chris recommended I see a psychiatrist, a doctor of brains, so I got an appointment, but it isn't until early February. I resolved to hang on until then.
And the dark clouds kept rolling over. So there I was: carrying around an extra weight I felt guilty for having, and guilty that while having it, it wasn't heavier. Depression — a journey of purpose and satisfaction! /sarcasm
During this time, my mantra, my prayer, became Light up my life, modified from a lyric in a Lana del Rey song. I sang and repeated it to myself, looking for something to get excited and passionate about.
Then, Chris and I adopted another dog.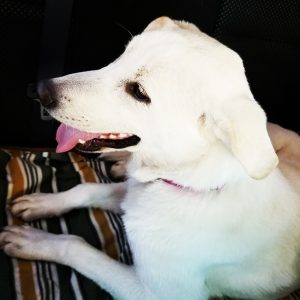 This isn't a story about how a dog saved me from depression, because she didn't. But Grace was a little more light shed on my life, and I'm grateful she gave me something to look forward to and be excited about. A distraction for those brutal, dark evenings.
I'm superstitious about pets–I want to look at a potential new pet and know it's the one for me. I got that feeling when I saw Bella on Craigslist, and Mia the cat picked me as soon as I went out to go see her behind the break room at work. Chris had wanted another dog for a while, but I just didn't get that feeling. Besides, I love my Bella-dog like crazy, and didn't want her to feel uncomfortable or left out. Bella is so perfect, she's basically a big cat, and new dogs might not fit in with our little lifestyle.  However, one night we were browsing pet finder and came across a picture of Grace.
Shit, I thought. I think that's my dog.
We put in an application for her and out of many were the only family approved. Grace had what we were looking for–a medium-sized dog to be a playmate for Bella, white like I like, and a Pyrenees-lab mix like Chris wanted. He frequently bemoans that as a Samoyed Bella isn't very family-minded, and she's not a good cuddler. Grace is both.
Their first meeting went really well:
It just reaffirmed that she was the perfect dog for us… she and Bella became instant best friends and play all the time. What a joy for Bella, too, to have that in her life :-)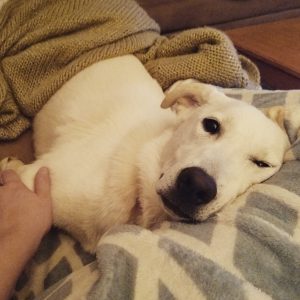 But again, while that was a very lovely thing (and I've been spamming Instagram with pics of her and my other pets), it didn't really fix my main depression problem. Then, a week ago today, a most amazing thing happened:
It went away.
I know, it sounds weird. Everyone I tell is like… yeah that's not how depression works. You're not supposed to feel it come and go. But guys, I'm telling you, I could feel it happen. I was up way too late, around 2am, and I finally made myself turn off my lamp and go to bed. As I lay there, brain too active, trying to find the rhythm to fall asleep, I felt the depression go. It fizzled away like steam into the air.
Yeah. Super weird.
I kept this development close to the chest for a few days, but it hasn't come back. I feel normal again. I feel like myself again. And, it turns out, this period of depression was a blessing in disguise. Which leads me to the other super exciting thing I'm dying to talk about:
I recently had a Manifest 2017 session with Andrea Scher, and it totally changed my life. Andrea led me through an examination of 2016 and a goal/dream setting for 2017. It was so weird to look back at 2016–the depression gave me short-sighted vision, and I'd forgotten everything I accomplished:
Wrote Shotgun Girl after 2 years of dreaming about it
Made excellent progress on Nameless, especially in terms of story. I made so many brave choices this year with that book, including cutting 30k and letting one of the main characters take a totally unexpected and intimidating turn!
Traveled a ton! I went to NYC with my sister, Las Vegas with Chris, Georgia with Susan Dennard, St. Louis with Kat Zhang, and New Orleans with my sister again! Plus a couple trips up to Nashville for concerts, one of which I did all by myself!
Maintained relationships with the people most important to me. I developed my relationship with my littlest sister. Chris and I remained happy and in love. That was the wonderful thing about therapy, and my depression, and any issues I have really: my relationship with Chris is never the problem. He and I are always good.
Fully healed from a major psychic wound with the help of Susan
Implemented a ton of projects and changes at my day job. Was featured in a trade magazine as one of the '30 Under 30′ in the nation.
Asked the writing club at my University if they would be interested in me coming to give a talk (despite the voice in the back of my head criticizing me, "Why would they want to hear from you? You're not published"), and it went amazing!
Worked full time and took 10 classes over the year, and managed to do all the stuff above.
Wow! 2016 wasn't so bad after all, right? Andrea surprised me when she called me a "creative powerhouse." Until I step back and look at it all, I don't realize how much I really work on and produce. It never feels like enough.
But the true takeaway was Andrea's method for teasing out my hidden dreams and aspirations, and beginning to manifest them into reality by writing them down–and getting specific. Andrea was so great at this. From the tangled word vomit I threw at her, she was able to pull out my core desires and passions like simple, beautiful jewels. She even gently and wisely pointed out a few things to me that I'd been struggling with, but convinced myself to tolerate.
The greatest moment was when she had me write down the characteristics of two people I hugely admire. From there we identified my core goals/values for the upcoming year:
To be brave (and bravely make the hard decisions that are best for me)
To be uniquely myself (to make the art I want to, not to please others)
To be clear and discerning with writing and my career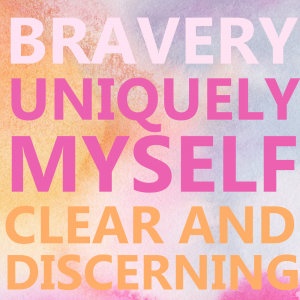 And as for the issues I was struggling with, she asked me this: What would the people you most admire do in this situation?
You guys, my shoulders just fell. Because I know. I've known all along. They would do what's best for them, and exit the situation. It's funny how it takes another person to get you to see that. Andrea also made this mind-blowing suggestion that I should be grateful to my depression for knocking down some of my emotional defenses and bringing these issues to light.
Thank you, depression. You really did let something amazing come through.
So I'm making changes. An immediate one you might have noticed is I've re-branded my website. I've known for years I needed to do this, but I put it off because I adore the special banner picture I commissioned from Corona Zschüsschen. I paid for it, I love it, and it represents me and my work, so how could I get rid of it? But the dark colors, and being bound to such a large header image, were weighing on me. It was a chore to come here and update my website. I always felt icky doing it. As a compromise I will make a print of that banner and keep it in my office so I can smile fondly at it instead.
Another change is that I've decided to only take 2 classes this semester, instead of 4. This means I won't graduate this December like I'd planned. But if I push it off, then I get to use these next 4 months to fit things in my life I really want to do. Why should I have to put my passions and interests on hold for 4 months, to constantly find myself thinking, 'I'll do that thing after next semester?' Why should I risk the side effects that come from all that stress, possibly including returning to depression? Is pushing the graduation deadline really so terrible if it means avoiding all that?
Nope. Not so terrible at all.
This brings me to the third and biggest change: I have ended my professional relationship with my literary agent.
I am so grateful for the support Laura Bradford gave me over the years, and how she continued to stand by me across eight years and three projects with no sales (plus another couple manuscripts that never went on submissions, including Shotgun Girl and the rewrite of Nameless). Her endorsement of me as a writer gave me so much in my life, not the least of which is the experience with LTWF and my lasting friendships and readers from those years. Laura gives amazing editorial feedback that helped me grow significantly as a writer. If your tastes and hers align, I highly recommend her.
I signed with Laura when I was nineteen, and positioning myself as a women's fiction writer. That is not the writer or person I turned out to be. While this was an incredibly hard decision to make, I feel it's the right one for me, and I'm very excited to move forward.
The past few days have been unreal. I haven't felt this good in so long. I feel like I completed a long, hard chapter in my life, and the new chapter is brimming with opportunities.
I am also really excited to entering the querying trenches as a writer informed about the industry and my creative self, so different than how I did it the first time. For years I gave advice to other writers on various blog platforms. We'll see if I can't put my money where my mouth is :-)
Talk to you soon,
<3, Savannah