I love the holidays. I love decorating and singing holiday songs and eating caloric food and visiting family.
But the day after the actual event I am done. DONE, do you hear me?
This December was a flurry of activity, with my writing, work, and personal life all swirling together. In case you weren't aware, I'm in a leadership role in my day job, and act as the coordinator for a lot of our company events. Let's break this down:
December Week 1
Turned in ACORAS to my agent! Celebrate! Indulge in guilt-free television-watching sessions and internet surfing!
Begin to think guiltily about ACORAS 2, which I officially started for NaNoWriMo and stopped working on in order to not over-stimulate the story.
Week 2
Even though I'd been planning for it all year, scrambled this week to fill the final details on the annual company Christmas party! Have first stress migraine.
At party receive recognition reward in front of all staff. Ride in limo.
Week 3
I was in NYC again! This time Chris went with me! It was a structured event so we had no free time to see friends or family (though I did sneak in half an hour with Sammy Bina while I was supposed to be touring the World Trade Center Memorial Center).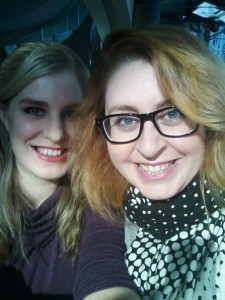 If you'll recall, I was in NYC basically the same weekend last year, so it was a lot of dejavu. I still didn't have time to see the NYC Public Library (it's on my bucket list), but Chris and I had a wonderful time at the stuff we did get to do, which included eating at fabulous restaurants, giggling so hard we cried at WICKED on Broadway, eating the best pizza and cannolis I have ever had from some hole in the wall place, and buying way too many scarves in Chinatown.
Week 3
Our family Christmas party! We had a Godfather theme this year, so we served home-made meatballs and spaghetti sauce, home-made bruschetta, and made our own meat trays and caprese! We bought way too much food and have agreed to tone it down for next year, which is a total relief because preparing all that was exhausting.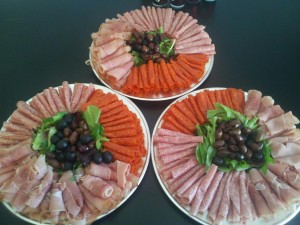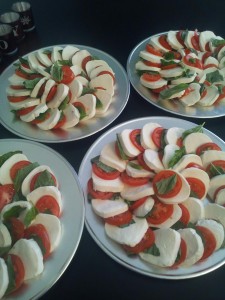 Week 4
Christmas!! We spent every spare minute with family. Chris gifted me with all of our much-wished-for camping gear, so we will finally be able to go camping together as soon as the weather warms! Speaking of weather, it managed to sleet/snow here the day after Christmas, which is sort of a Christmas miracle. I'll take it.
We went fox hunting with my family, but it was miserable cold, and we weren't allowed to keep the car on or talk at all because we had to listen to the radio and for the hounds. It was awful.
This Week!
I'm sick, but finally back at work and on a regular schedule. It is such a relief to be 'back to normal' after a month of deviation. We are dieting and running again, I will be able to write more in the evenings, and we will take more steps towards finishing the updates on the house.
Goals for 2013
Sign a book deal. This one isn't really up to me at this point, but it would be nice to do :-)
Finish the second sleeping beauty story. I loved having a month off in December because it showed me how much I can't help developing stories. The second book is coming alive in ways it totally didn't when under the deadline of NaNoWriMo. I'm very excited to turn it into another work I'm incredibly proud of.
Run in a 5K. Chris and I didn't run in December at all, but we're back on it starting tonight!
Hit my goal weight. We really have this diet and exercise thing down pat, it's just a matter of sticking to the process. I'm excited for the progress I know will come.
Update my crafting blog twice a month.
Oh, what's that? Crafting blog? Yes, I craft. I am a crafter. I just love making stuff with my hands, but I feel weird about sharing that stuff on here since you guys aren't here for that. So, I've decided to separate out the projects, and if you're interested you can follow along at Paper & Teal. It's something I'm just getting started, but I should have some of my past projects up there soon, and I'm doing a new one with Chris this weekend.
2013 here we come!
~~~
What about you? What are you up to/what are your goals for 2013? Leave a link to your blog if you've already blogged about it!
<3, Savannah