I'm having some troubles with uploading the pictures from New Zealand onto WordPress, but if we're Facebook friends you've probably seen them anyway :-)
Here's a teaser though, one of my favorite pics from the trip. Yes, the water really was teal!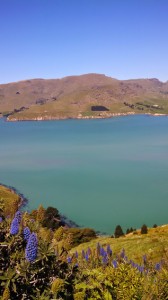 I just adore Halloween. The costumes, the decorations, the scary movies, and especially passing out candy to the neighborhood kids. One of the best parts of being an adult is getting to be on the other side of that door.
I've often found myself drawn to positions and services 'on the other side of the door.' I want to be in the know, I want to be behind the scenes, involved in all the reality that takes place before the fantasy is presented.
I guess that desire comes from my profound ignorance of the adult world as a child. I viewed adulthood with fear and anxiety, petrified because I didn't have the knowledge I knew I would need, and the learning process was confounding. Driving, cooking, laundry, paying taxes, opening a bank account, working for 8 hours a day with no recess… When you haven't taken even the smallest step towards self-dependence it all seems overwhelming.
Of course each skill came in its own time, and each piece of information acquired slowly added up to a wealth of knowledge, the greatest of which is that I learned I have the ability to figure out any problem life throws at me. There's no reason to be anxious because I trust myself that I'll figure it out. Haven't I, every time before?
And so, these days I find myself wanting to be working behind the scenes. I've parted the curtain and found the man behind the Great Oz, but now I want to know what it's like to operate those levers.
Wanting to be a writer is probably the greatest example of wanting to be behind the scenes. As it is for so many of us, reading was my life as a child, and books were my closest companions but also a mystery: how were they developed? What was it like to write them? Where did the ideas come from?
When I started out as a writer I was obsessed with learning the minute, intimate details of a writer's process. If you could have shown me how the neurons in the brain fired to create ideas I would have wanted to see. Now that I'm ten years into being a writer I know way more about the process than I ever thought I would, and though the strength of my curiosity has waned I'm still fascinated.
In my day job, working in human resources, I feed my curiosity about the big intimidating world of corporate life. I get to learn the reasoning why decisions are made and policies developed. That's part of why I love my job, but here's a pretty great example of another reason: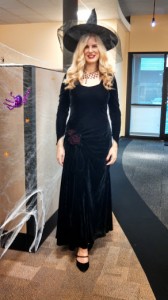 Every year I've been here I've promoted dressing up at work for Halloween (as long as costumes are dresscode-compliant, of course), but this year we went all out, sponsoring an open house for the families of our employees. You can see some of the spiderwebs decorating the cubicles behind me!
This year I'm the classic standby of Witch, because my true costume is work-inappropriate, yet appropriate enough for the costumed charity ball I'm attending tomorrow. It's going to be crazy and fabulous, and I can't wait to show you pictures! You'll  never guess what I'm going as ;-)
I'd like to leave you with this excellent song that's my theme for the day, She's My Witch by Kip Tyler.
Have a safe Halloween, and good luck with NaNoWriMo if you're participating!
<3, Savannah