It has long been a dearly-held dream of mine to meet Maggie Stiefvater, and last weekend it finally happened.
Maggie and Courtney Stevens hosted a workshop called Seven Sentences that took place in a beautiful lodge on a lake outside of Nashville. Chris and I had stayed the night before up in Nashville due to a mini family reunion on his side that coincided perfectly with the seminar I'd signed up for months ago.
The things is… I was totally dreading it.
When you envision meeting your heroes, you imagine you'll do it as your best version of yourself. Going into the workshop I felt like the opposite of that. My depression was better but still kept me quiet and dull, due to the emotional eating I'm not at a weight where I feel great about how I look, I hadn't written anything new in a month, and I don't even have the credibility of being signed with an agent right now. Even so, it turned out pretty good, and I'm glad I went instead of bailing, as I was tempted to do.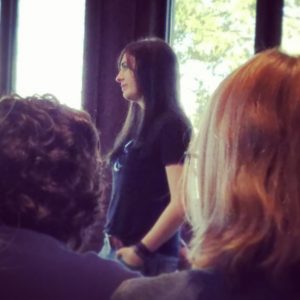 Maggie and Court were insightful, hilarious, and their presentation was incredibly well-prepared. They showed slides of their pictures from childhood, detailed examples of their own writing, and fun demonstrations of all the concepts we learned.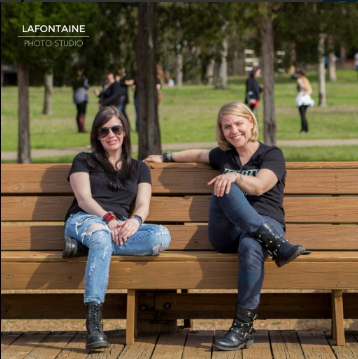 The theme of the workshop, of course, is that the first seven sentences set the reader expectations for the book. They are both hook and thesis statement, inciting curiosity and forming a connection with the reader instantly. But the workshop wasn't so much about composing those seven sentences. Instead it was about getting in touch with our individual emotional expertise as a writer, how to frame scenes and plots to communicate a defined message, and the biggest lesson at all — that it's okay to fail, and start over.
These are my favorite of the things we learned:
The Wheelhouse
In our workbook we were challenged to identify our personal Wheelhouses. What are the subjects you are an expert in? These subjects come in a variety of topics, including Relationships, Settings, Characters, Genres, Stories, Experiences, Moods, and Skills. It was totally awesome to see Maggie and Court put up their own personal wheelhouses. Here's Maggie's: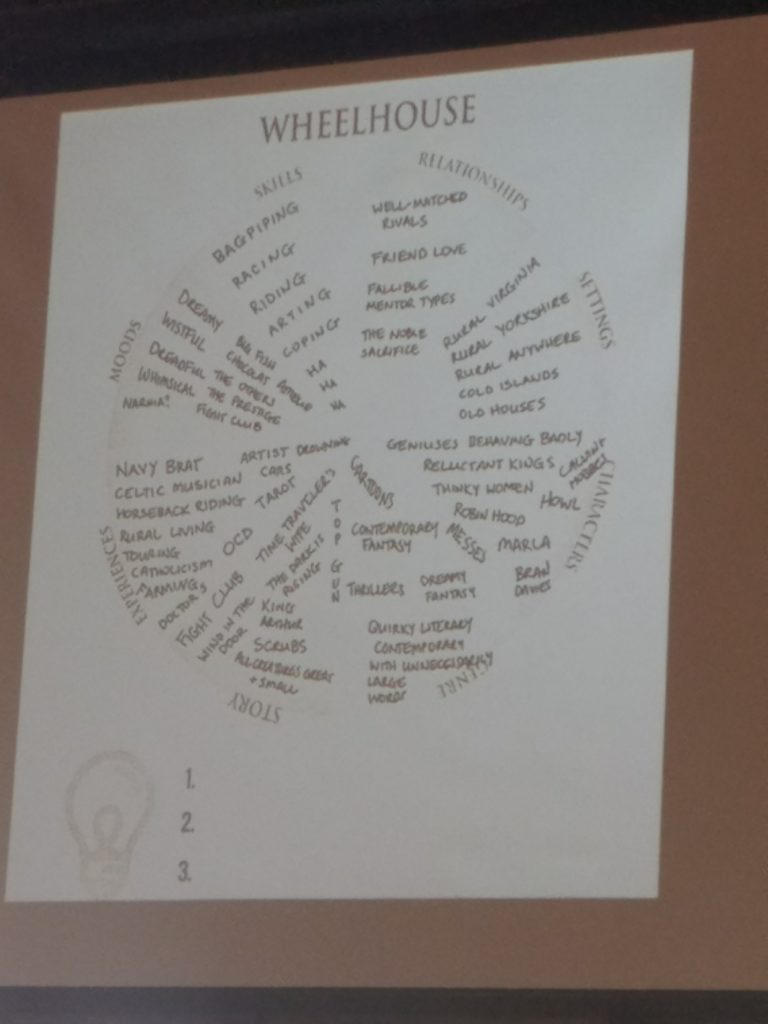 From here we explored what this really means, and how getting to the core of our expertise can translate to other stories. Here's an example from Maggie: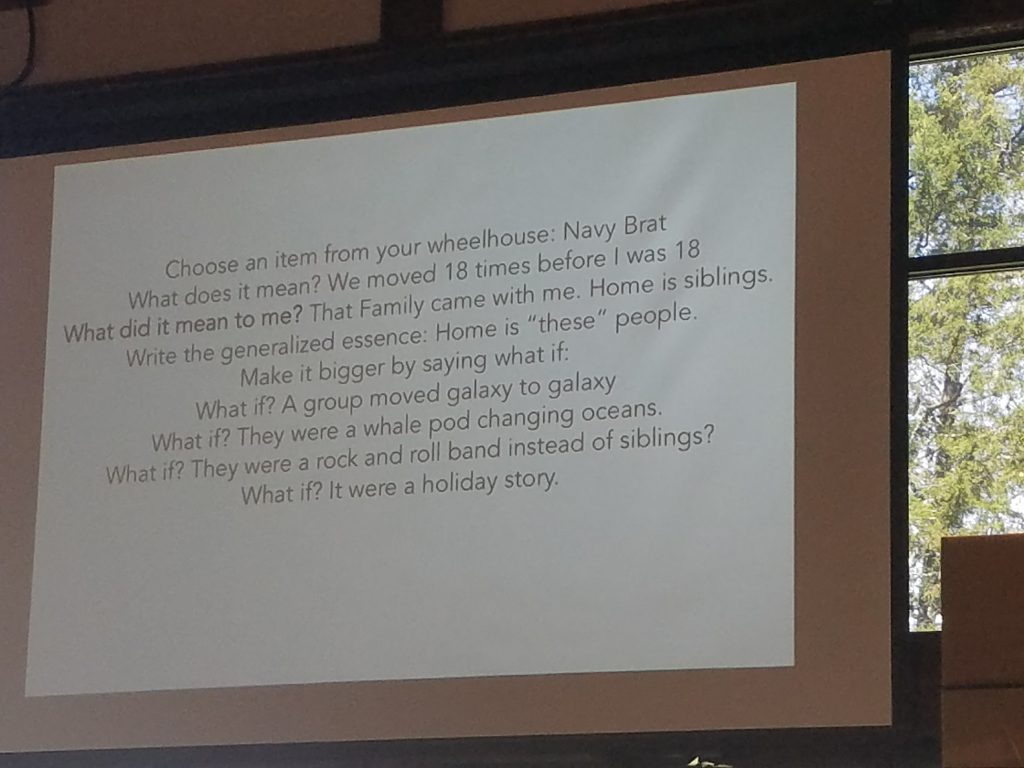 In this way you can identify the emotional truths underneath your expertise and apply it to your stories.
Lenses
This lesson totally blew my mind.
Apparently each sentence addresses the reader through one of seven different lenses, from Stranger (presenting facts only) to the Character themselves (intimate personal experiences). Adjusting the lenses adjusts the tone, and even the speed at which a book can develop (Stranger is fastest, Character is slowest).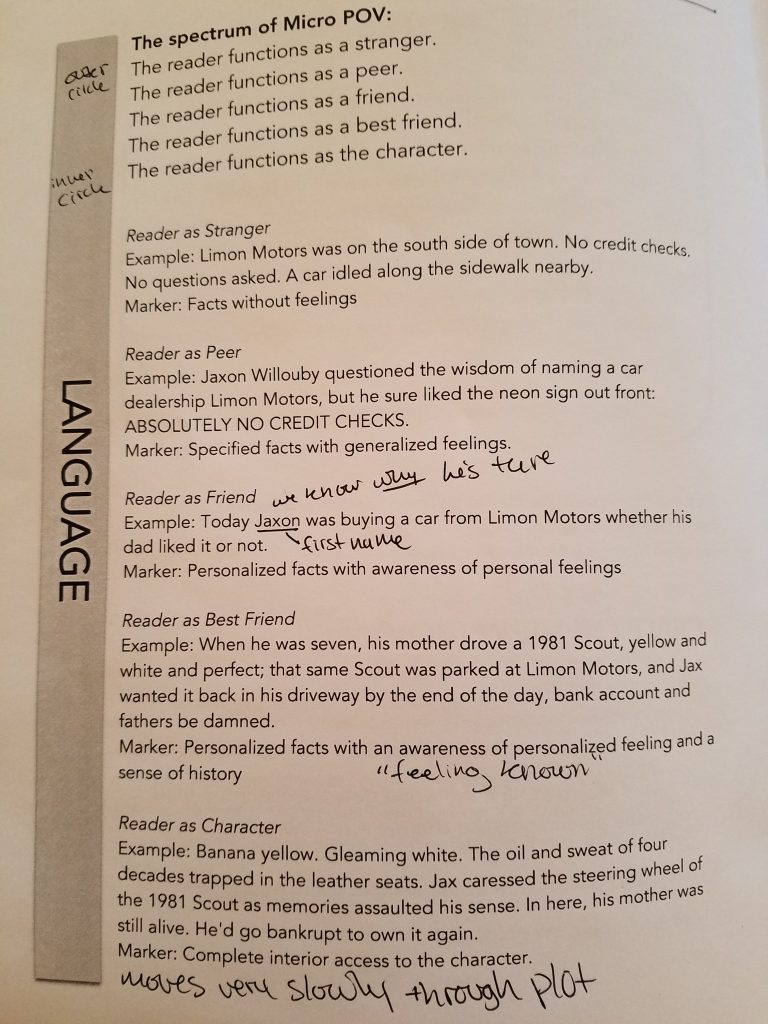 I loved this activity because a) it was an entirely new concept and b) it showed me that I often focus my writing between Best Friend and Character. I have conflated the creative, descriptive intimacy of Character with 'good' writing. Something to think about for the future.
Failure
During the entire presentation, a large stack of boxes arranged in a 7-foot tall Jenga tower waited ominously in the front of the room. I'd heard of this tower from one of the MadCap Retreats (in 2016 I think), and Maggie and Court frequently joked about how they'd encouraged attendees to pour their hearts onto the box… only to burn them on the final night.
Our demonstration was not nearly as fiery.
Instead, at the end of the seminar audience members were invited to come up and literally play Jenga. But the boxes were different sizes, and it soon became difficult to create the tower and keep it standing. Finally the tower grew so large that even when standing on chairs the other writers in the room weren't able to get the boxes to the top.
"Do I have a tall friend in the audience that could help us out?" Court called.
My entire row looked to me. I knew my time had come:
As any long-time readers or friends know, I'm 6'2 and then some. After only two rounds of this the tower grew so unstable that with Court's urging we let the tower lose a few levels, then she and Maggie knocked the whole thing down.
"What is the point of Jenga?" Court asked the audience. "To knock down the tower."
We were so concerned about preserving the integrity of the tower, but nothing bad happens when it falls down.
The lesson?
It's okay to fail when writing. Nobody dies. No one gets hurt. Don't take it so seriously, and have fun.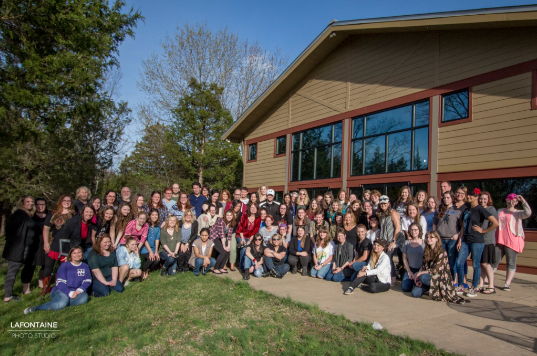 I met several lovely, friendly, supportive writers, to whom I gave my apologies for not being my usual upbeat self. They were very kind and sympathetic, and have my gratitude <3
Also, I got to meet Maggie.
We were outside in the courtyard pictured above, many attendees already heading out. I wore my heart shaped sunglasses and she wore her aviators.
"The Raven Boys changed the trajectory of my writing," I told her. I still clearly remember that moment in The Raven Boys when the gang enter Cabeswater for the first time. My whole body lit up with goosebumps. "This is magic," I thought to myself. "I want to make magic like this."
I have read The Anatomy of Curiosity, a book Maggie and her two friends wrote dissecting how they construct a story. I've seen Maggie deconstruct some scenes from The Scorpio Races. I never felt ready to enter that level of analysis with my writing, relying on my same old tricks of instinct. But now, after this seminar, I feel ready to take my writing to the next level.
Just a few more things to edit on Shotgun Girl, and it will be ready to send out into the world.
I'll let you know how it goes ;-)
<3,
Savannah