Whew, it's been a busy month! Concert, trip to NYC, my birthday, and a flurry of writing. Here's a small update with the highlights:
Portugal the Man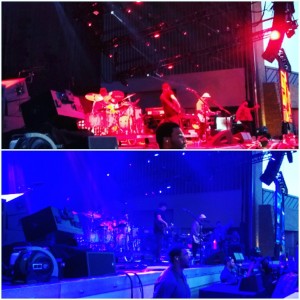 'Portugal. The Man' has become one of my absolute favorite bands over the past few years. I discovered them when looking for songs to fit my project code named: Shotgun Girl, and fell instantly in love. Several of their songs were absolutely instrumental in shaping the Shotgun Girl plot (as you can tell from the playlist). They are actually the only band I've turned Chris on to, instead of the other way around.
When they came to Nashville, only a two hour drive away from us, I knew Chris and I had to go.
We ended up with tickets to the pit, which was my first time ever being so close. I had some concerns about the standing or the noise, especially after I forgot my earplugs, but there was absolutely no problem.
You know, I really didn't get music when I was younger. I found it distracting when I was trying to focus on other things, and it had the ability to affect my moods strongly, which gave me a sense of lack of both helplessness and hopelessness. I never used to understand why people would want to go to a concert or stand there with speakers blasting away at them. However, the older I get the more I find there's music out there I actually enjoy. It was incredible to stand right there in front of the speakers, looking directly at the creators of the music I love, as they gave an amazing performance. No mood modification, no sense of being out of control. I liked it.
New York
A few months ago my great-uncle passed away after an absolutely amazing life of 90+ years. He survived World War II, was married to the love of his life for almost 70 years, and left behind a big, happy family that adored him and his buoyant spirit and sense of humor. The memorial and funeral were set for the same weekend after the Portugal concert, so I ended up staying the night in Nashville and flying out to NYC the next morning.
My littlest sister and I shared a hotel in Times Square the first night before spending the rest of the time with family. She'd been begging me for a New York trip ever since our other sister and I went to NY in 2011. Because of the short time period we focused on just being in the city and people-watching, but we did get up to some cool stuff.
Pictures under the cut!
Continue reading "New York, Portugal the Man, and Writing Update" →