On Saturday Chris and I drove up to attend the Southern Festival of Books. My primary goal was to meet Sharon Creech and hang out with Kat Zhang, but lots of other awesome stuff happened, too. Like this:
Zombie Walk!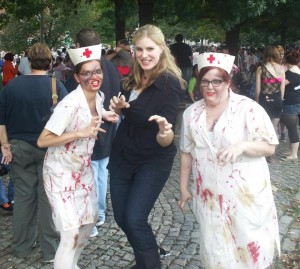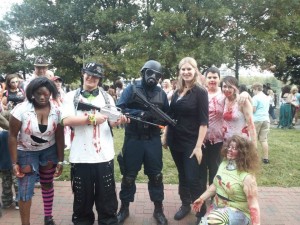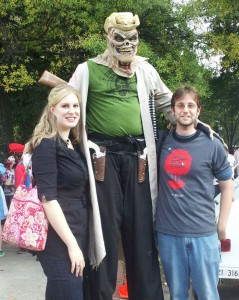 Then someone offered Chris fake blood, so this happened: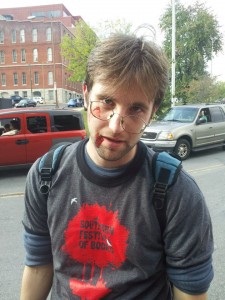 And thereafter when we took 'nice' pictures, Chris had blood on his face: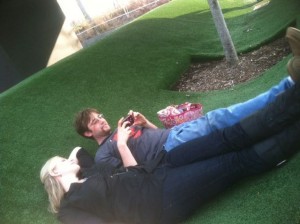 That was us in this weird modern park, btw. On astroturf. Personally I think it was a critique on how by overprotecting our children we offer them a sterile, false reality, but I digress.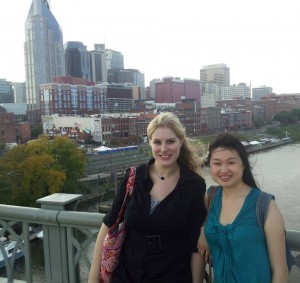 Kat Zhang and I were also on a windy bridge together, which resulted in pictures like this: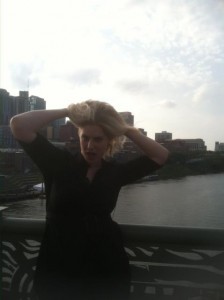 So to everyone who says I should be a model just because I'm tall… no. Here's your reason why. Kat's 'Supermodel' pics turned out great, btw.
I did see Sharon Creech talk, but never 'met' her or got my picture with her. I did hover awkwardly with her handlers outside a public bathroom waiting for her to come out, until I realized where I was and where they were, and thankfully she ignored me when she emerged. How do you explain that one? Umm, yeah I didn't notice you were in the bathroom… Can I have a picture?
So yeah. Sharon Creech. Amazing woman and writer.
Then we had dinner at Sam's Sushi, which is this little hole-in-the-wall place probably about as large as my living room. There are 2 tables and 3 additional chairs, and if Sam doesn't like you he moves you out of his restaurant. He is the Sushi Nazi, like the Soup Nazi from Seinfeld. He also makes the most delicious, huge sushi rolls for $4, so we go and meekly wait to be served our deliciousness. I don't have any pictures from this because I didn't dare.
After, Kat took me as her +1 to an author's reception for the writers attending the Festival. It took place in the inside parking lot of a snobby art gallery, a fact we did not realize until they started disassembling the area. Then it was like, 'OMG there are cars behind that curtain! And cement underneath that rug you just rolled up! And where are you going with those lights?!'
Kat and I met some awesome people, among them A. J. Hartley, who was super nice and cool and funny, even if he did name-drop like a publicist's roladex thrown out the window on a windy day ;-) I'm just teasing. The poor man can't help it if his career as a writer and Shakespearean professor has led him to have such personal contacts as R. L. Stine, Patrick Stewart, and J. K. Rowling. Also Carrie Ryan and a number of other people I admire very much. But don't worry; we razzed him about it all night so I'm sure he feels good and admonished for being so awesome.
Other points of interest: I ate deep-fried Oreos for the first time. They didn't taste so much like Oreos as donuts, but I have no complaints.
~
Tomorrow I am off work and planning to write all day in an effort to finish the sleeping beauty rewrite. I'll post if I finish, so wish me luck!
I am planning an article on being an introvert yet attending events like these, and the mental toll it takes.
Talk to you all soon!
<3, Savannah